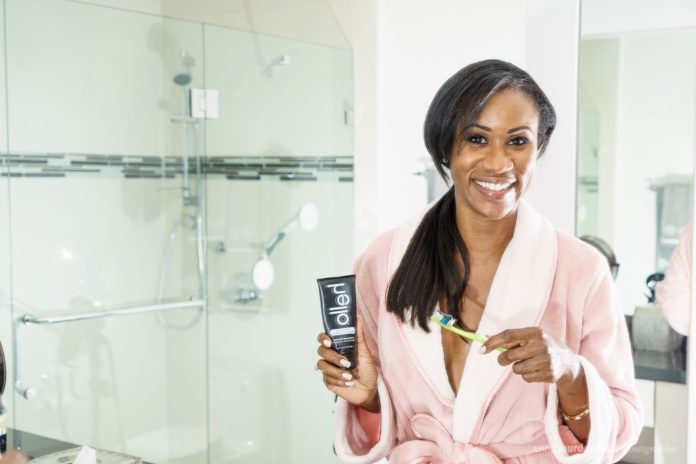 For the last few years, activated charcoal has become quite famous in the beauty and wellness industry as an alternative to fluoride toothpaste. Some people have chosen to move away from using fluoride due to dangerous  effects of fluoride that have been linked to osteoporosis, thyroid problems, endocrine problems and cancers, just to name a few.
Activated charcoal is everywhere, not just toothpaste and can be seen in products such as charcoal cleansers, facial masks, scrubs and shampoos. I have recently started trying various brands and must say that one downside is that the taste takes some getting used to especially if it is not mint flavored.  Some brands can be difficult to spread on to the toothbrush and around the mouth but overall I have gotten the same cleaning effects as toothpaste so I have not missed regular toothpaste at all! Another thing to note, I sometimes have to follow with a second brush and definitely flossing afterwards to ensure a proper clean and get rid of any black residue between my teeth.
What is Activated Charcoal?
Activated Charcoal is a fine black powder which is made from coconut shells, petroleum coke, coal, wood, and other materials. So, Activated Charcoal is in trend when it comes to teeth whitening. It helps in removing toxins from your body and at the same time getting rid of the unwanted substance from your teeth making your teeth whiter. Let's move further and have a look at the benefits of Charcoal Toothpaste.
Benefits of Charcoal Toothpaste
1. Charcoal Toothpaste is a natural teeth whitener with antioxidant properties. It helps in removing stains from your teeth such as stains of tea, coffee, wine, and smoking. These stains are on the enamel.
2. Regular brushing with charcoal toothpaste will result in creating the pH balance as it absorbs plaque and fights with bacteria that cause bad breath keeping your breath fresh. It kills up to 90 % of germs. So, if you're struggling with bad breath, charcoal toothpaste is pretty good for you.
3. The charcoal toothpaste is way more different than any other toothpaste in its appearance but that doesn't mean it will be harsh on your teeth. Instead, it will be gentle and smooth to your teeth without causing irritation.
4. Charcoal toothpaste contains all natural ingredients which are trustworthy. It does not contain any chemical, additives etc that are harmful to teeth.
5. The results you achieved through charcoal toothpaste is quite fast. As long as you apply the toothpaste, your tooth will remain clean and white. Use the product on regular basis for better results.
6. Above all with charcoal toothpaste, you can save a lot of money. The process of the traditional way of teeth whitening are expensive and are slow. There are different sessions for the teeth whitening process which requires dollars in every session which can put a hole in your wallet. Charcoal toothpaste is the best alternative way to get your teeth whitening done.
Those were the benefits of charcoal toothpaste and now let's take a look at some emerging brands in charcoal toothpaste which can be considered.
1. FineVine Activated Coconut Charcoal Toothpaste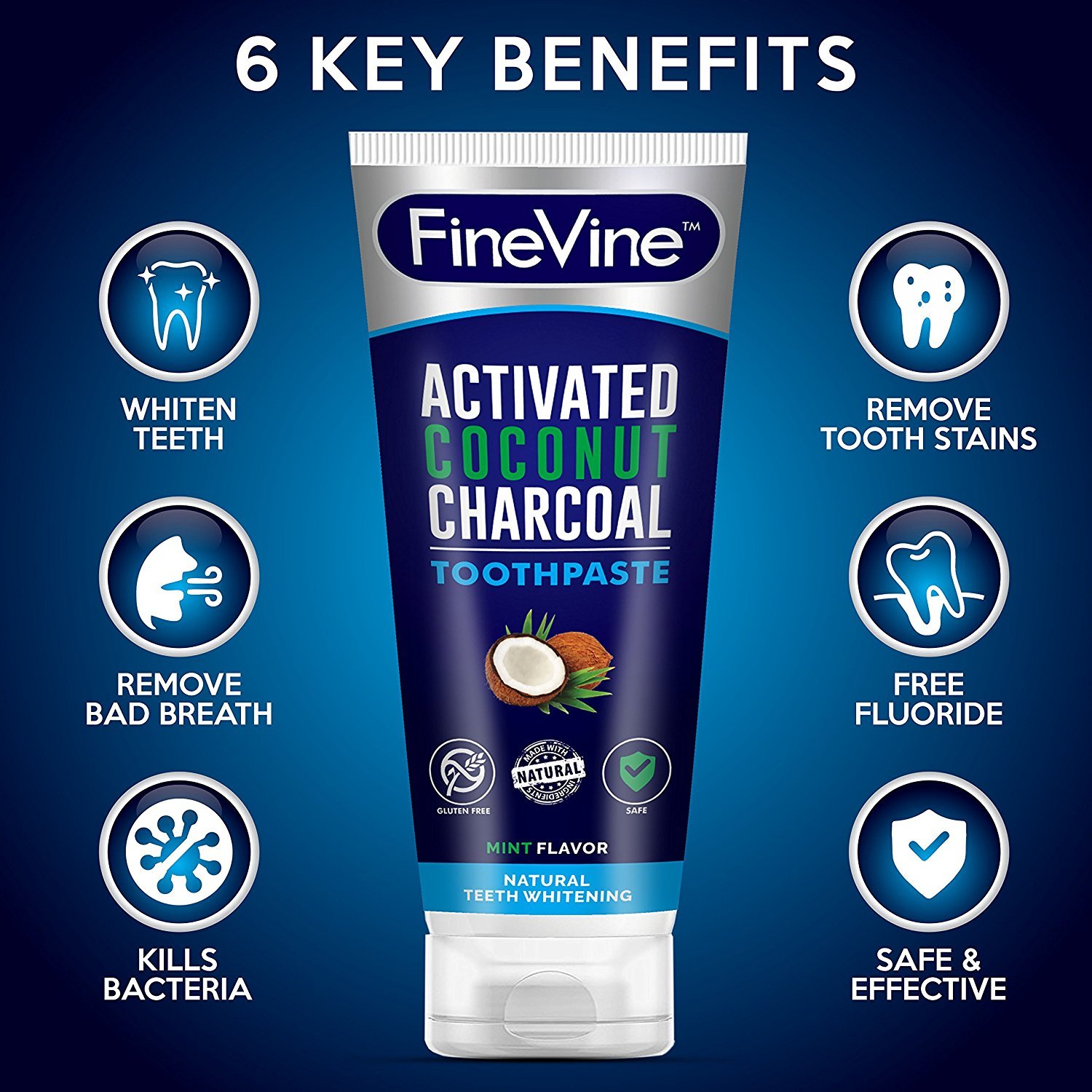 This toothpaste contains natural ingredients like Organic coconut oil, organic peppermint oil, baking soda, coconut charcoal powder. The key benefits of FineVine Charcoal toothpaste: it whitens your stained teeth, strengthens your sensitive gums, eliminates bad breath, support oral health, and promote dental health. It doesn't produce a foaming effect in your mouth. You can find FineVine on their website or Amazon has the product also available for sale.
2. Twin Lotus Active Charcoal Toothpaste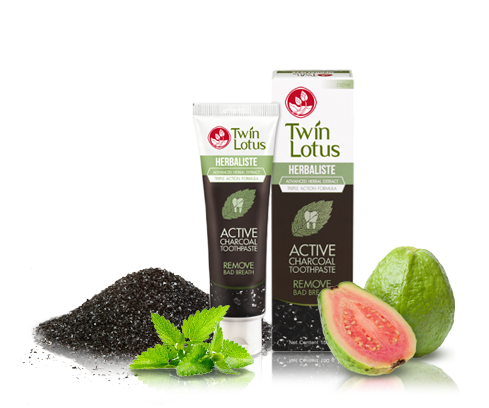 Twin Lotus Active Charcoal Toothpaste has triple action formula: it kills bacteria, removes bad breath , and masks. The toothpaste has got a minty taste and leaves your breath fresh, but some of them may find it bitter. Unlike FineVine activated charcoal toothpaste, it foams a lot. Twin Lotus Charcoal Toothpaste is excellent for people with sensitive teeth and looking to reduce bad breath since it contains clove oil which is said to have strong detoxicant and healing effects . The best place to purchase Twin Lotus seems to be Amazon since their website does not sell directly to customers.
3. Active Wow Teeth Whitening Charcoal Toothpaste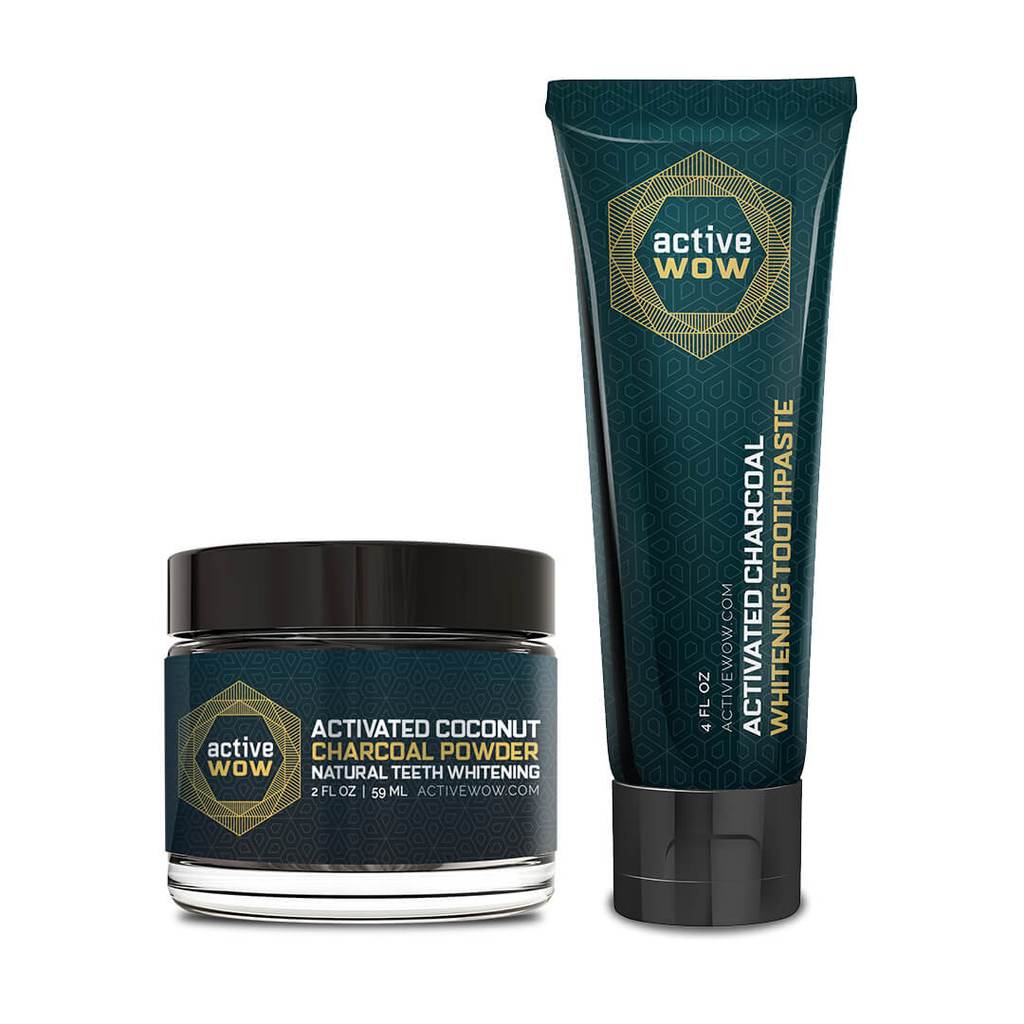 Active Wow Charcoal Toothpaste contains natural ingredients such as orange seed oil, bentonite, organic coconut activated charcoal powder and has no harmful chemical substance. It removes stains from your teeth giving you brighter smile. Due to the presence of natural ingredients, active charcoal toothpaste helps to re-mineralize your teeth, reduce cavities and gives fresh breath. Their charcoal whitening powder is also a popular choice with hundreds of excellent teeth whitening reviews. You can purchase Active Wow directly from their website or from other retailers such as Target Walmart or Amazon.
4. Cali Organic Coconut Oil Charcoal Toothpaste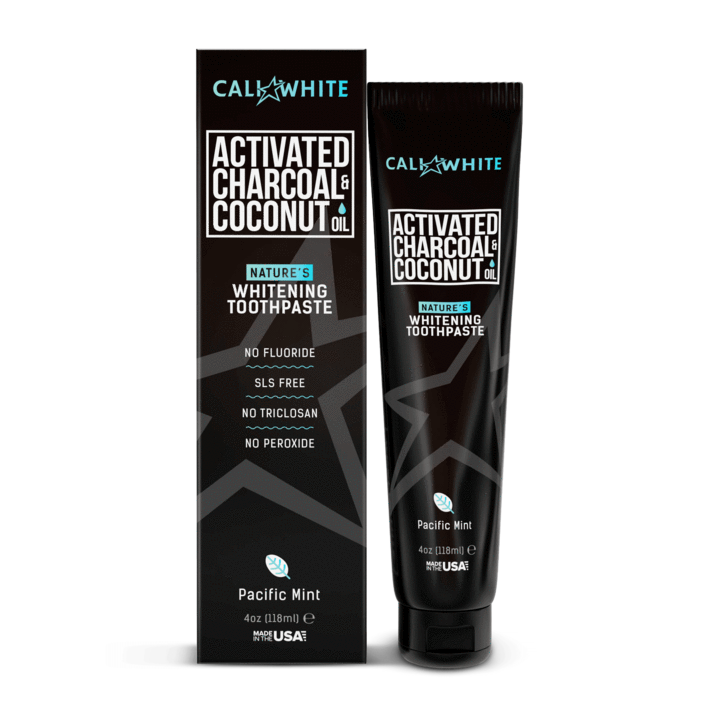 Cali Organic Charcoal Toothpaste uses organic coconut oil, baking soda, peppermint oil, tea tree oil, natural flavors and has no fluoride, SLS, peroxide, no Triclosan or parabens. Containing all natural ingredients, it cleans, whitens and protect teeth and gives fresh minty taste. You can purchase Cali directly from their website.
5. InVitamin Tooth & Gum Powder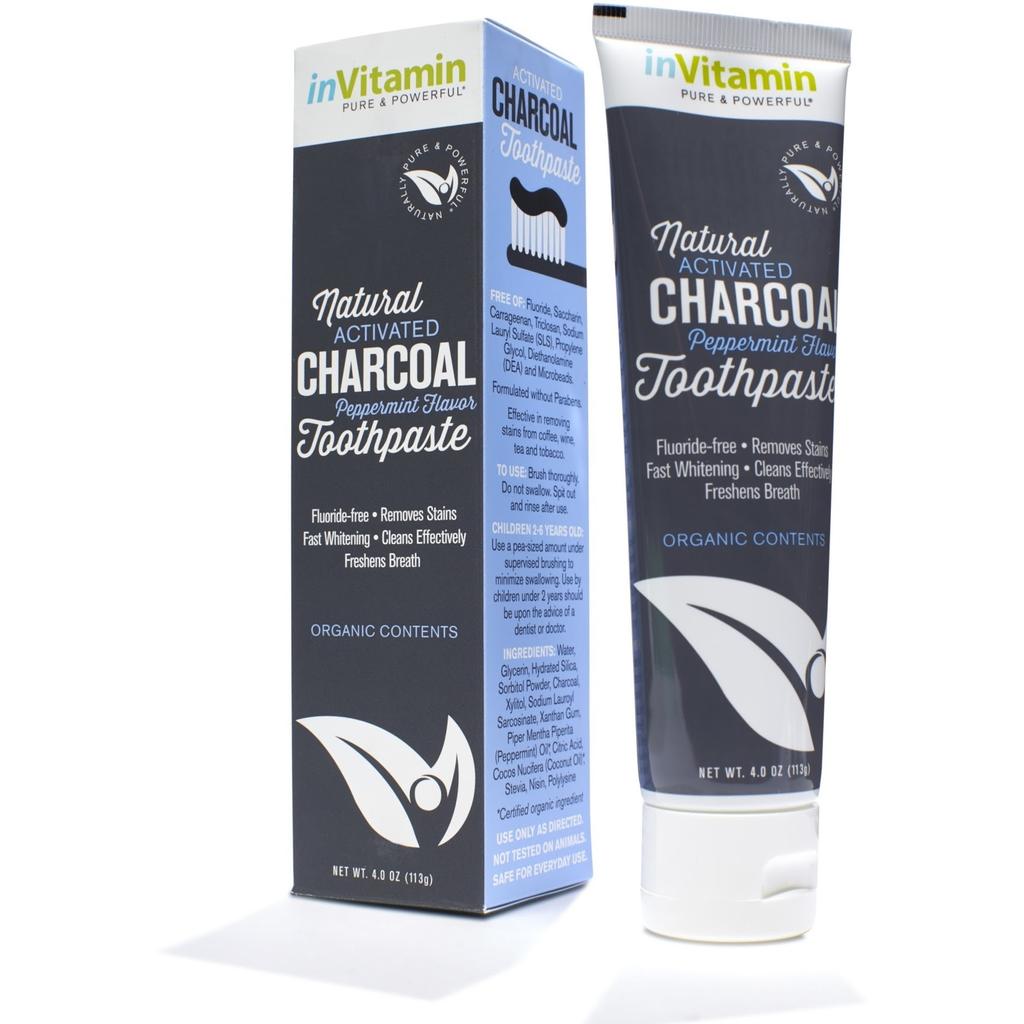 It contains no synthetic additives, no preservatives, no foaming agents, no fluoride, no artificial colors, no abrasive baking soda. All the ingredients in inVitamin tooth & gum powder are organic such as orris root powder, myrrh gum powder, hibiscus petal powder, stevia leaf powder, spearmint essential oils & extracts, and bentonite clay, It absorbs bacteria, toxins, and heavy metal in the mouth. It cleans your teeth, fights with bad breath giving you natural brighter smile. Some claims that when used frequently results in sensitivity teeth. You can purchase InVitamin from their website or Target.
6. Oral Hygiene Activated Bamboo Charcoal Toothpaste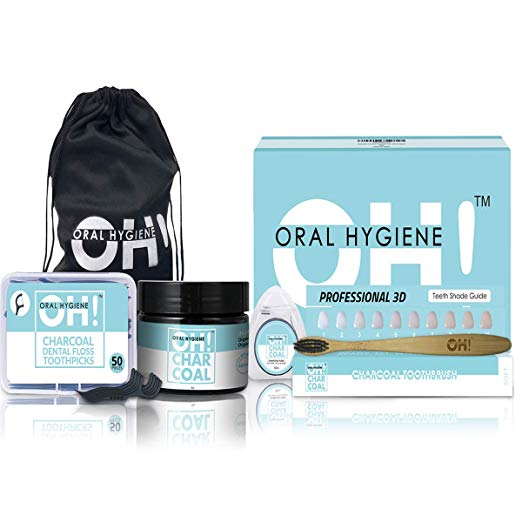 It has natural ingredients and has no harmful chemicals in it. Oral Hygiene whitens the teeth and protects the entire mouth from the bacteria. It removes the stain from the surface of the teeth and provides visible results in just a few days. This product can be found on Amazon. 
7. Hyperbiotics Probiotic Toothpaste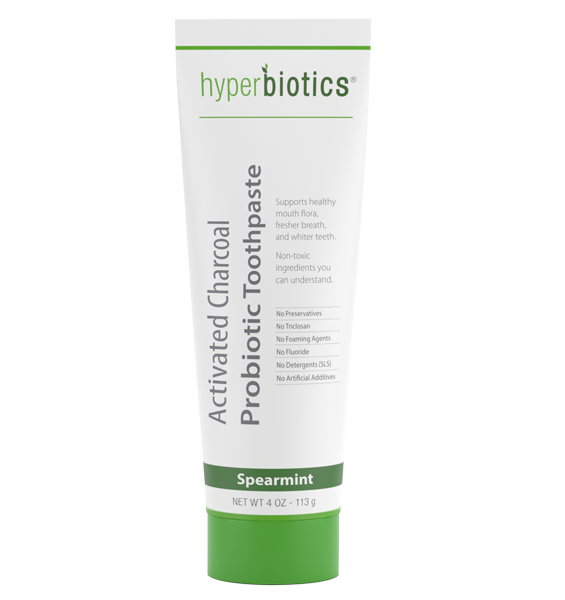 It's natural ingredients make your teeth strong and your gums healthy. Requires only small amount to whitens your teeth naturally. It contains probiotics which support the growth of beneficial bacteria in your mouth and gives you a fresh minty flavor breath. They do not have artificial ingredients or any harmful chemicals. According to their website they say: Research indicates that L. paracasei can help you maintain healthy teeth and gums by supporting the populations of probiotic bacteria and helping to control the number of Streptococcus mutans(undesirable bacteria) in your mouth. you can find their products on their website or Amazon.
8. Dental Expert Active Whitening Charcoal Toothpaste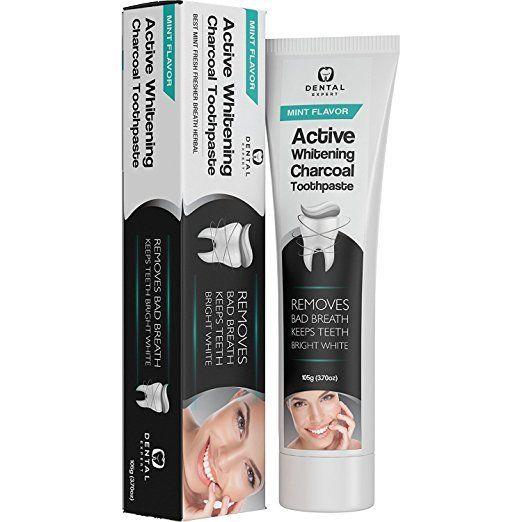 The mint flavor of Dental expert charcoal toothpaste makes your mouth feel extra fresh. Their ingredients are 100 % natural and uses bamboo charcoal so it helps in whitening the teeth and helps in removing bad breath. It foams up really well. They have different flavors such as mint, orange, peach, ginger, and lemon. I could not find an official website but the product seems to be available mostly on Amazon or Ebay 
9.Hello Activated Charcoal Toothpaste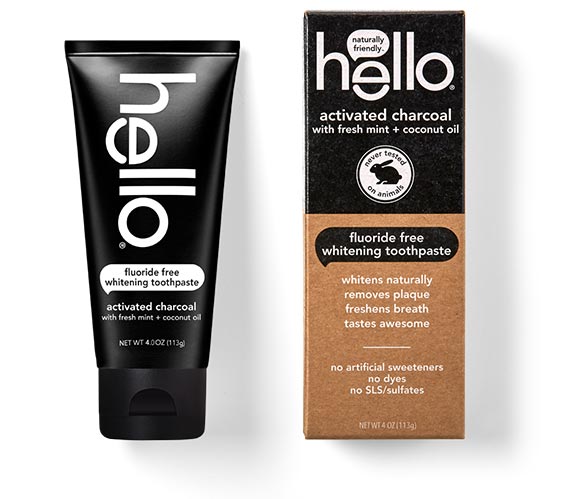 Hello charcoal toothpaste is actually the first one that I tried to satisfy my curiosity about charcoal toothpastes. I found mine as I browsed the halls of Walmart one day and couldn't be happier. The texture is smooth and easy to spread on to the toothbrush and around the mouth unlike some other brands.  Hello toothpastes have a fluoride and fluoride free option so you can choose.  Some other important facts to note are that they are free of dyes, artificial sweeteners/flavors, parabens, triclosan, microbeads, and gluten. Their toothpastes are also vegan, cruelty-free and made in the USA. You can purchase Hello charcoal toothpastes directly from their website or in many retailers online or in stores.
10. Hardwood Activated Charcoal Powder 100%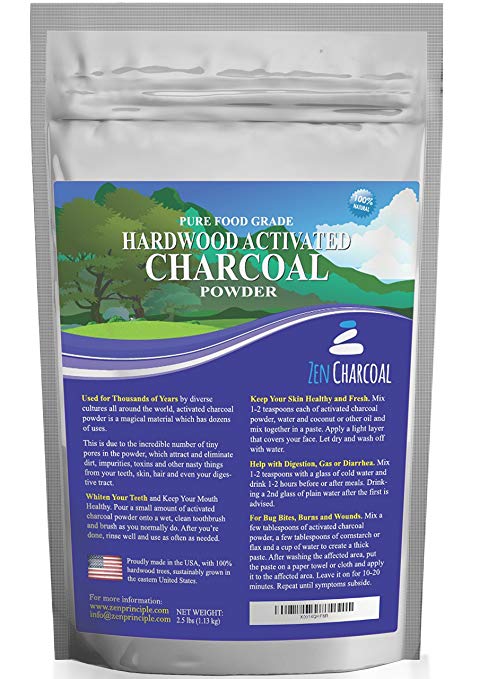 It is made from eastern America hardwood trees. Other than making your teeth whiter, this product can also be used on the skin for the cleansing purpose, on hair, and body. Contains no other additives and has been Certified Food Grade. The powder can be found from many different retailers. I found this particular one on Amazon.
With so many options available in charcoal toothpaste, be careful to choose the products which are best suited for you. I hope my list will give you a good head start in your journey to choosing the best charcoal toothpaste for you. Charcoal promises to make your teeth stronger, brighter and healthier as well as decrease bad breath and is a healthy alternative to fluoride and sugar based toothpastes that may have potentially toxic ingredients. Now say cheese! show your new brighter smile.