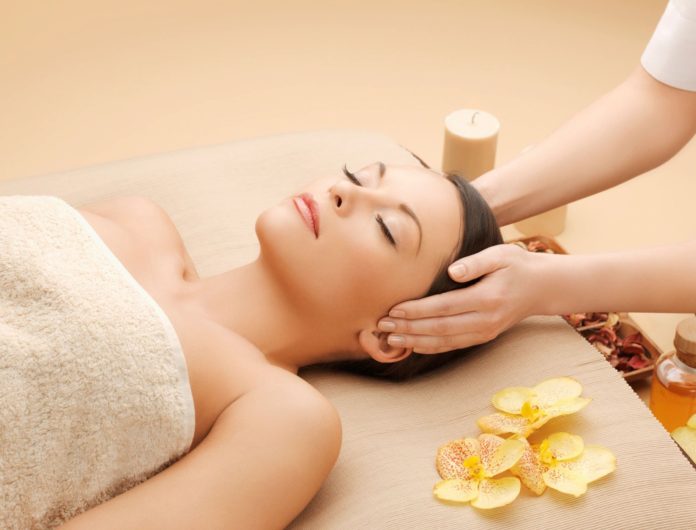 We all want to look great but there are thousands of cosmetics and beauty products out there and aren't we all confused? Brand loyalty and beauty are important to us, but should we die for it?  As we make the shift to organic and natural foods because we want to keep our body healthy why should we neglect our largest organ-the skin? If we prefer foods with less toxins and chemicals, then how can we put beauty products on our skin that are loaded with toxic carcinogens? Our skin deserves to be pampered too so why not choose organic beauty products which will keep our skin healthy, beautiful and play a role in preventative care? After reviewing a variety of articles, here are my top 10 reasons to switch to organic beauty products:
1.Natural Ingredients- A product being organic itself usually means that the ingredient used in the beauty products are 100% natural, chemical free and non-toxic, thus making it safer to use in our skin and keep it in its natural, organic state.
Healthy skin with an awesome glow– Chemical beauty products can cause irritation and can be harsh on your skin but on the other hand, organic beauty products are gentler on your skin. It moisturizes and make your skin smooth. As all the ingredients of organic beauty products are naturally high in antioxidants it makes our skin healthy and gives it a youthful glow.
Less side-effects– As I mentioned earlier chemical beauty products can be harsh on your skin and thus it can cause irritation, skin-allergies or other skin related problems, but with organic products, you need not worry as much about all those skin related problems because most products use natural ingredients from flower and plant sources therefore having less side-effects.
Protect from premature aging– UV ray effects are bad for our skin. I am sure none of us are excited about aging or getting those beautiful wrinkles…do we even refer to them as beautiful? UV effects of the sun can result in various skin problems like wrinkles, and pre-mature aging. Organic beauty products are made up of natural minerals like titanium oxide, zinc oxide, and iron oxide, which helps in protecting our skin from UV rays. This helps in the prevention of premature aging of the skin.
Earth-friendly– Chemical beauty products contain ingredients which are harvested with pesticides and other harmful chemicals. This damages the soil, seeps into our water supply and these chemicals also spread in the air. On the contrary, Organic beauty products contain natural ingredients which are not harmful to the environment as they are often use less chemicals and more organic material.
Natural fragrances– Beauty products contain a mixture of chemicals and these chemicals are inhaled by us throughout the day which will result in various health issues such as respiratory conditions like asthma. Organic beauty products contain natural ingredients and thus they are not as harmful when it comes to over powering fragrances.
Usually good for most skin types- We invest a lot of time and money in searching for beauty products which are good for our skin type and tone but with organic beauty products, this is usually less of an issue with organic products due to its natural chemical free nature. Of course, there are tons of products for different skin tones and skin conditions but in my opinion, taking away the icky stuff makes it better. People with sensitive skin should do the switch.
It has a long-lasting effect– Organic beauty products contain natural and pure ingredients and with these natural ingredients you are giving your skin loads of antioxidants and nourishment that will last for a long time.
9.Vegans, this is your world- Vegan beauty products do not contain any type of animal or ingredients plus no animals are harm during the manufacturing of products as they do not conduct a test on animals. If you want to choose organic products for your skin, you are already at a head start is you want to go vegan with your skin care.
Affordable- I thought organic beauty products are way expensive but when I researched I found out that they are similarly priced and some even less expensive. Do you see me doing my happy dance? Pocket-friendly for everyone, natural, better for my skin, better for the environment. These are great reasons to switch to organic Beauty Products.
As a newbie, I invite you to comment and let me know if there are brands you prefer, so I can add them to later articles. As an advocate for organic and natural skin care, I like to use www.simplegreenearth.com for a wide variety of organic, fair trade, vegan and cruelty free skin care products. They are a small family owned organic market owned and operated in the USA so I'm all in for small business for a good cause.  Here is my list of products to help you switch out a few everyday products:
Body lotion
http://simplegreenearth.com/Product/1833/Nourish-Organic-Body-Lotion-Almond-Vanilla-8-fl-oz.html
Skin toners
http://simplegreenearth.com/Product/4272/Devita-Natural-Skin-Care-Cool-Cucumber-Toner-5-oz.html
Facial cleansers
http://simplegreenearth.com/Product/4056/Desert-Essence-Gentle-Nourishing-Organic-Cleanser-6.7-fl-oz.html
http://simplegreenearth.com/Product/4113/Nourish-Organic-Face-Cleanser-Moisturizing-Cream-Cucumber-and-Watercress-6-oz.html
Scrubs
http://simplegreenearth.com/Product/20164/Soothing-Touch-Scrub-Organic-Sugar-Tuscan-Bouquet-8-oz.html
Facial serums
http://simplegreenearth.com/Product/4528/Nourish-Organic-Face-Serum-Pure-Hydrating-Argan-Apricot-and-Rosehip-.7-oz.html
toothpaste
http://simplegreenearth.com/Product/11676/Desert-Essence-Toothpaste-Tea-Tree-Whitening-Mint-6.25-oz.html
Sunscreen
http://simplegreenearth.com/Product/12335/Goddess-Garden-Sunscreen-Organic-Sun-Sport-Continuous-Spray-6-fl-oz.html
Anti-Perspirant
http://simplegreenearth.com/Product/11264/Toms-of-Maine-Womens-Antiperspirant-Deodorant-Natural-Powder-2.25-oz-Case-of-6.html
Shaving products
http://simplegreenearth.com/Product/12024/Weleda-Shaving-Cream-2.5-oz.html
http://simplegreenearth.com/Product/11966/J.R.Liggetts-Shaving-Foam-7-oz.html
Body Wash
http://simplegreenearth.com/Product/1416/Nourish-Body-Wash-Organic-Tropical-Coconut-10-fl-oz.html
Body Soap
http://simplegreenearth.com/Product/1119/Roots-and-Fruits-Bar-Soap-Black-Soap-Cocoa-Butter-and-Orange-Peel-5-oz.html
Who doesn't love giveaways?  We are giving away an Andalou Naturals starter facial gift set to the first 10 people who sign up for our Blog!