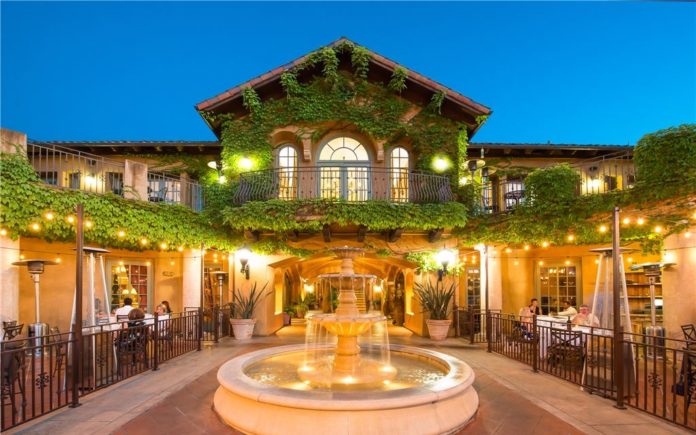 We do not often realize it, but the tourism industry plays a significant role in the state of our environment. Whether its water usage, power sources, renewable and non renewable practices and even recycling, since they are usually such a large operation, their impact on the environment deserves a second glance. Eco-tourism is now practiced by many luxurious hotels and resorts all around the world. It seems that many large hotel chains are starting to look into the future to use there advantage in this large industry as a catalyst for change and are now attempting to leave a positive footprint.
The hotels leading the pack perform different functions as green and Eco-friendly hotels. They may protect wildlife, conserve resources or recycle.  As an avid window shopping traveler with a wanderlust desire, I often enjoy scrolling through countless travel magazines, Instagram and Facebook pages and other outlets that allow me to experience the gift of travel outside of my own sparing means.
The more travelling we do as a family, the more we realize how much more we enjoy hotels or resorts that offer beautiful aesthetics, with a connection to nature. Being a Florida resident, I have included three of my favorite Eco-hotels in the state but I have to say my personal favorite is the 1Hotel on Miami Beach. What a wonderful haven in such a busy city.  Without further hesitation after a full day of research (repeat full day) here are my top 10 for now:
 Vero Beach Hotel & Spa
This resort is a 4-diamond rating by AAA. It is located on the Northern end of central Florida's treasure coast in Indian River Country. Eco-friendly amenities are available such as recycling bin in guest room, natural toiletries, low-flow toilets and faucets, organic coffee, tea and snacks, and energy-efficient lighting. If you want to bring your pet, they are also welcome to the hotel.
2. Plantation Golf Resorts and Spa Plantation Golf Resorts and Spa, Crystal River Fl.
In 2008 this hotel was awarded as North America's leading green hotel by World Travel Awards and in 2018 it is again nominated for the same award. Plantation Golf Resorts and Spa is a member of "Green Hotel Association" and "Rules Selection of Eco-friendly Hotels Worldwide". They provide Eco-tours, do not disturb kayaking adventure with manatees and a guided tour for Columbia India Mounds. Hotel focus on energy, water, and solid waste conservation.  The Eco-friendly Plantation on Crystal River is surrounded by the natural springs of Kings Bay and more than 25,000 surface acres of pristine lakes and rivers, as well as wildlife refuges and state parks.  Guests have the unique opportunity to swim with the manatees (the only place you can in North America), rent a pontoon or Jon boat, relax by the riverfront pool, enjoy a game of croquet on the manicured lawn, or hire a guided fishing charter. With more than 1,600 feet of seawall, overnight guests can tie up their boats at any of over 80 spaces. A golf school and scuba certification classes are also available to guests of the resort.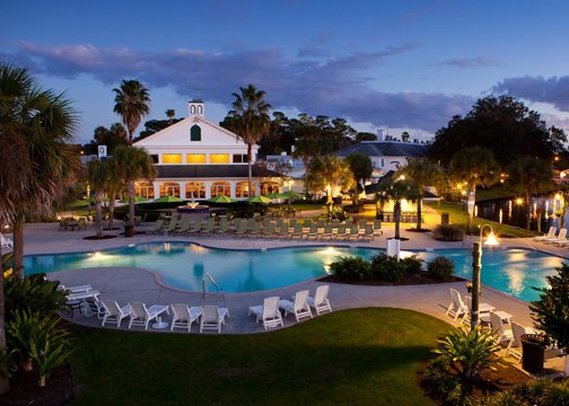 3. ​1Hotel South Beach, Florida 1 Hotel South Beach
The 1Hotel is located in Miami Beach, Florida, build through the use of woods, stones, and organic textiles. This is the ultimate Eco-friendly oasis. 1 Hotel uses organic decor, green cleaning solvents for its upkeep and 426 rooms equipped with filtered tapes and hemp blend-filled beds. This Miami South Beach hotel retreat is inspired by 600-feet of beach on the Atlantic Ocean. Designed for comfort using reclaimed materials, it is one-of-a-kind, naturally.The best things are it uses recycled wood room keys, cardboard hangers, glasses made up of recycled wine bottles, bettle-killed wood, hemp mattresses, organic sheets and chalkboards instead of notepads. Experiencing 1 Hotel South Beach should be on everyone's bucket list.
4. Hotel Los Gatos and Spa, Santa Cruz California
Located at the base of the Santa Cruz Mountains, the hotel is named Silicon Valley's premier luxury hotel.  Its charm reminds you of being in a Mediterranean private villa.  The hotel is a short drive from hyper-paced Silicon Valley and the soothing Santa Cruz coast. Take a drive and enjoy the beautiful scenery.  Hotel Los Gatos offers sustainable amenities such as ecological cleaning products, more than 80% water recycling, energy saving lights, water flow reducers,recovery and reuse of rainwater, electric car charging stations and towel changes only on request.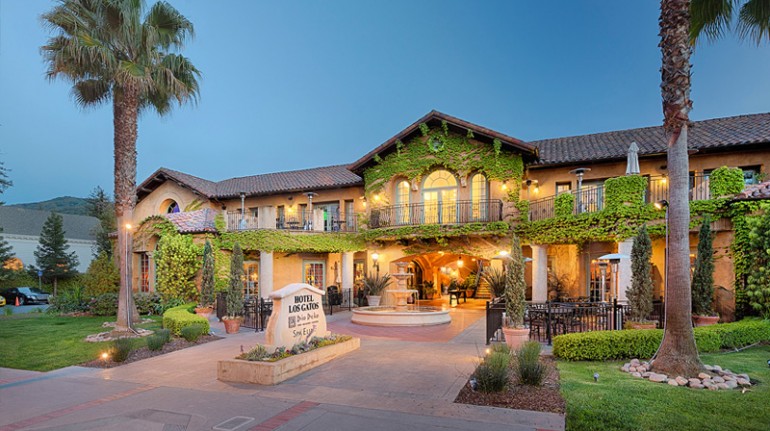 5.  The Stanford Inn by the Sea, Mendocino, California
The Stanford Inn by the Sea is committed towards sustainability and renewable energy. This hotel provides organic herbs and fruits, organic foods at their Raven's restaurant. They also provide kayaks, traditional canoes and locally designed and constructed redwood canoes to their guests. They use all organic cleaning supplies, avoid uses of herbicides and pesticides. Guests can also participate in educational programs in gardening, cooking, nutrition, yoga, meditation and composting.  Guests can take advantage of a wide range of therapeutic, Eco-friendly activities, from canoeing and biking to enjoying the cuisine of The Ravens, the Inn's vegan restaurant featuring local and organic food, including produce from the Stanford Inn's own California-certified organic farm and wine from certified organic vineyards.
6.  Majestic Yosemite Hotel, California
Majestic Yosemite Hotel is located in Yosemite National Park. It is named one of North America's most luxurious hotel and is a member of "Green Hotel Association". The Majestic Yosemite Hotel is famous for its interior and architecture highlighting natural surroundings, Yosemite Falls, Half Dome and Glacier Point. It truly is a place where you feel at one with nature.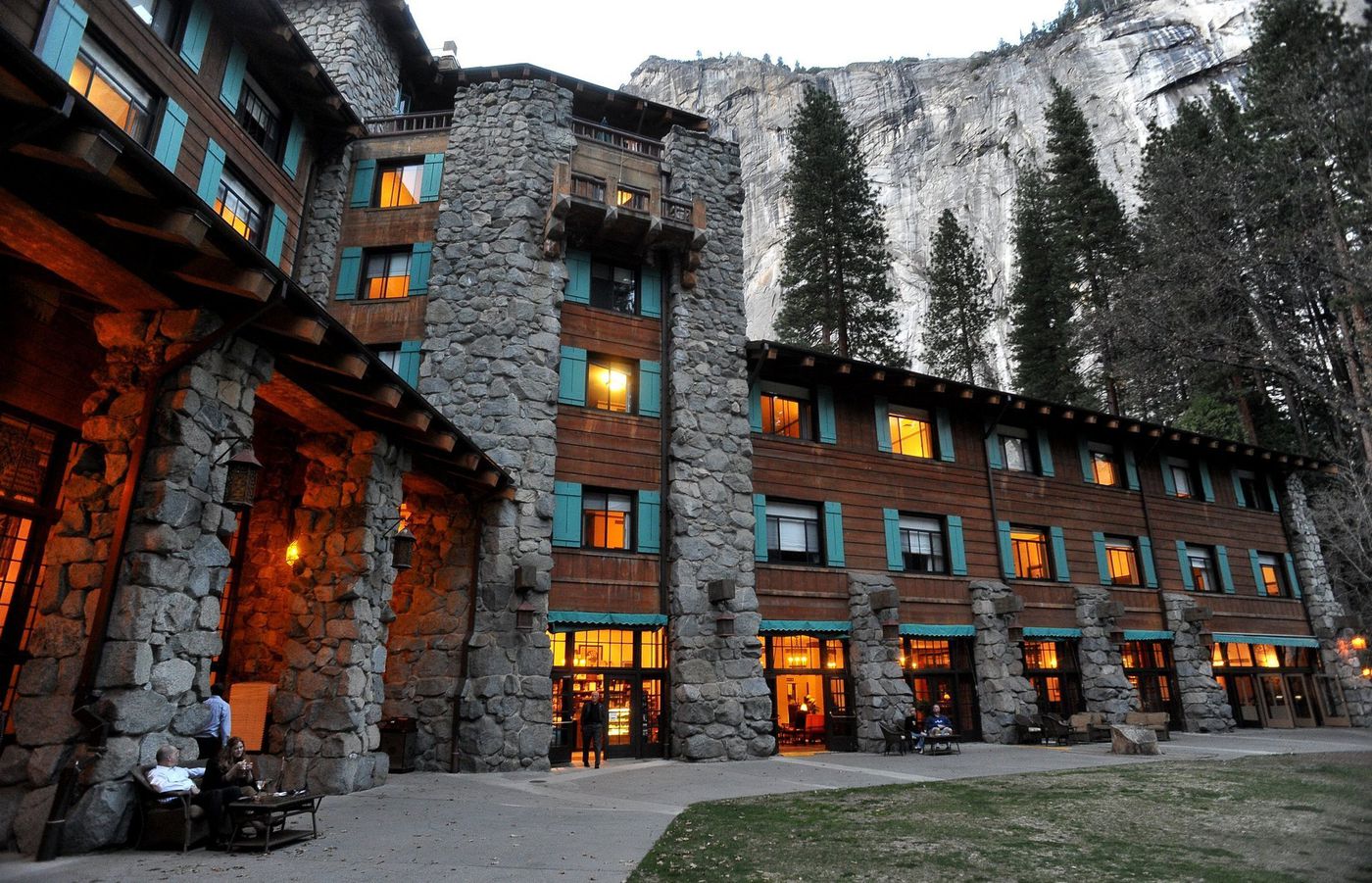 7.  70 Park Avenue Hotel, New York City
70 Park Avenue hotel is a chic, city hotel in New York City. Without the greenery of nature, this hotel does its part to more of a city traveler looking for a more modern and green travel.  The participate in green activities such as re purposing of kitchen oil into bio-diesel, they focus on energy conservation, solid waste management, water conservation, and the preservation of vital natural resources. The hotel includes energy efficient lights and organic cleaning toiletries.
8.  Hotel Monaco, Seattle Hotel Monaco
Hotel Monaco is a Kimpton brand, located in Downtown Seattle. This hotel provides refillable containers for shampoo, conditioner and lotions, yoga mats in every guestroom and a bike to explore the cities. When it comes to Eco-friendly they integrate green hues in their kitchen, recycle the products, use local foods and use recycled containers. Another modern, chic city traveler oasis.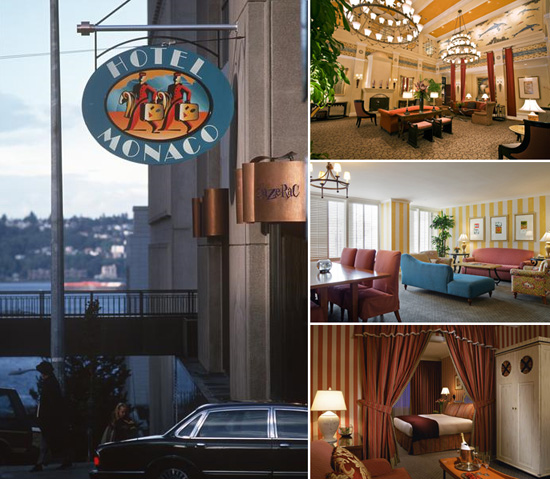 9.  Sadie Cove Wilderness Lodge, Kachemak Bay State Park, Alaska
Named by Natural Home Magazine as "One of North America's Top Ten Eco-Resorts." Also named by Forbes Traveler as on of the 10 Best Green Hotels in America, this hotel could not miss my top ten list.  The hotel is located on a remote beach in Alaska where you are always guaranteed to run into wildlife and wilderness and not tourists.  It was originally a private home built from driftwood but converted to an Eco-lodge in 1981 (The year I was born. Just saying).  The lodge is completely powered by hydro and wind power and features only five guest cabins to ensure a private secluded getaway. In fact, the only way to Sadie Cove is by boat, helicopter or a float plane.Hiking, kayaking and fishing for some of the best salmon in the world are endless activities.  Here you wont miss the lush wildlife. Bald eagles, orcas, whales, seals, sea otters, moose, mountain goats and the list goes on. Forget about the zoo if you want to get a wildlife treat. This is the place to be to really connect with nature.
10.  The Orchard Garden Hotel, San Francisco
The Orchard Garden Hotel is LEED certified (Leadership in Energy & Environmental Design) certification for a building by the U.S. Green Building Council (USGBC). The Orchard Garden Hotel achieved a tremendous 'green' certification, earning LEED-NC®  San Francisco's first hotel to earn this honor, The Orchard Garden Hotel was the second hotel in California and fourth hotel in the United States with this LEED certification.  Built in 2006 and nestled in the heart of San Francisco, The Orchard Hotel is anchored in the celebrated traditions of hospitality of the world renowned Orchard Road in Singapore. Recently named among the "Top 10 Best Eco-Friendly Hotels in the U.S." by USA Today, the downtown San Francisco hotel delights guests and new friends with sophisticated accommodations, high-tech amenities and personalized service. The rooms have high-end down pillows, Egyptian-cotton sheets and bath products made up of natural organic ingredients. This hotel used non-toxic paints and energy-efficient light. They also use sustainably grown wood, chemical-free cleaning products, and recycled fabrics.  Guest rooms have innovative green-friendly touches like key card energy control systems.