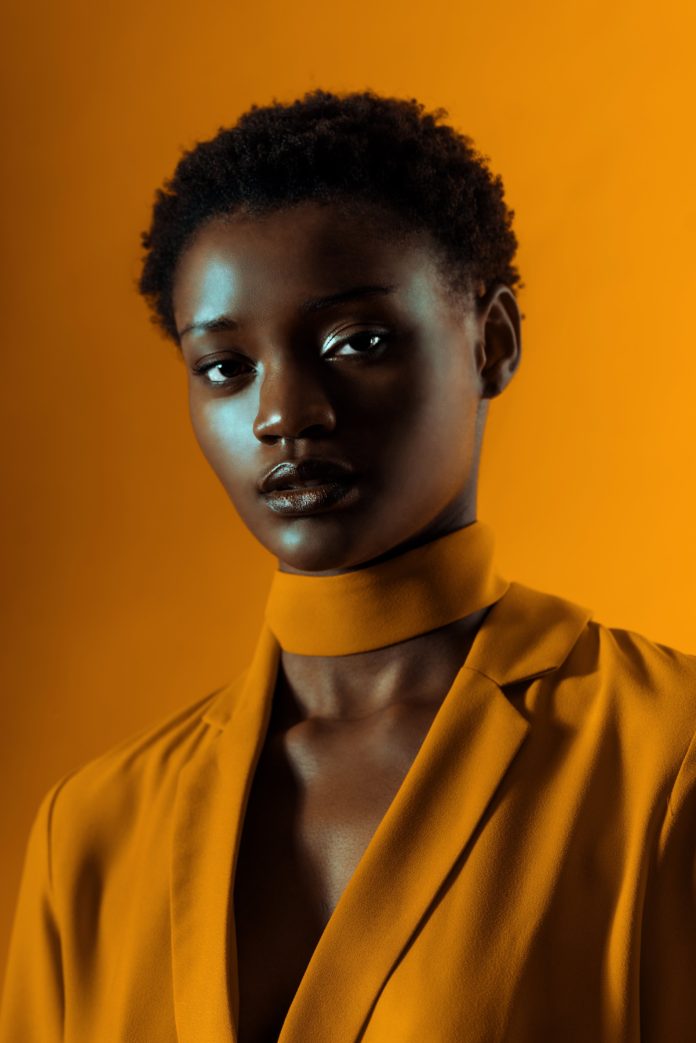 We are always on the quest for a new beauty treatment.  The latest moisturizer, a good hair mask, the best eye serum… and the list goes on. But what if I tell you that you can have what you need for a glowing skin right from your kitchen? Skin is the largest organ of the human body which is a fact that not many of us are aware of, but certainly something that more people should take seriously since we are and look like how we eat.
It is also a fact that we all want glowing and healthy skin since this is an indication of youth. Nobody looks forward to wrinkles, dry saggy skin or a complexion muddled with pimples or blotches.
People in all corners of the globe are still looking for the fountain of youth and will do almost anything to turn back the clock of time from our faces and skin.  The cosmetics and skin care industry is a billion dollar industry because people are always searching for products that make them look their best and sometimes give the illusion of health.
The most common misconception is that these beauty products are the end all for beauty and skin care. The truth is, what we consume is the first step to stunning skin and beauty.  Foods are rich in antioxidants and powerful enzymes, vitamins and minerals and help in slowing down the aging process as well as produce glowing skin. Eating foods with antioxidant rich vitamins and minerals regularly or using natural treatments that contain them will show results if you are dedicated and patient. Here are my top 15 foods for glowing skin:
Carrots.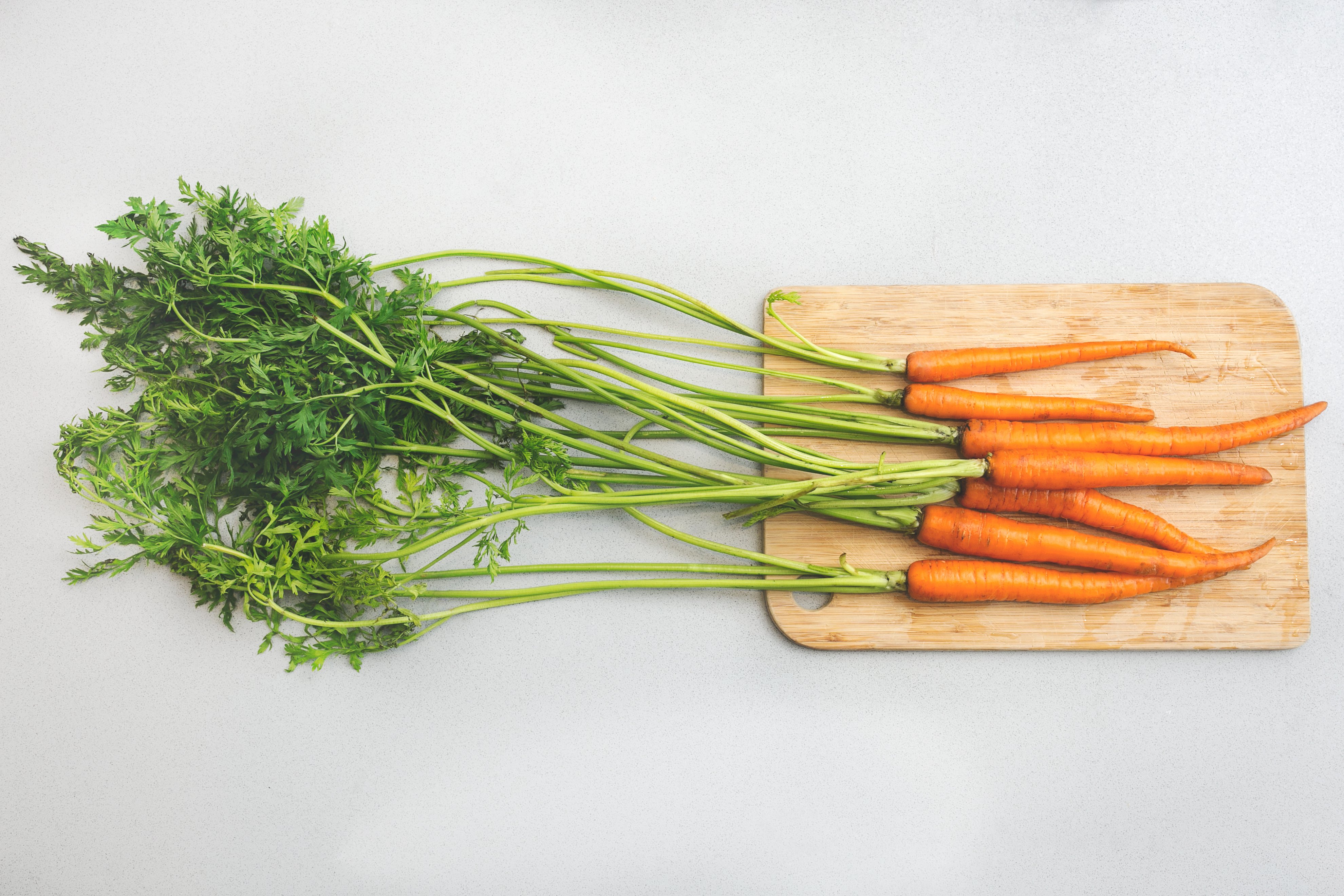 One of the  first considered 'super foods' because of its benefits, carrots are good for the eyes and for your skin, as well, due to the high concentration of beta-carotene and vitamin A, a powerful antioxidant that prevents overproduction of skin cells in the outer layer, which means fewer dead cells that could clog your pores. This same component prevents aging and is an essential player in reducing the development of skin cancer cells. In addition to all that, carrots are rich in vitamin C, which promotes collagen growth, reduce acne and dark spots. A good tip for adding it to your diet is to have a glass of carrot juice (R.W Knudsen has an organic option) and add it to your salads. A natural seasoning and a beauty treatment!
Strawberries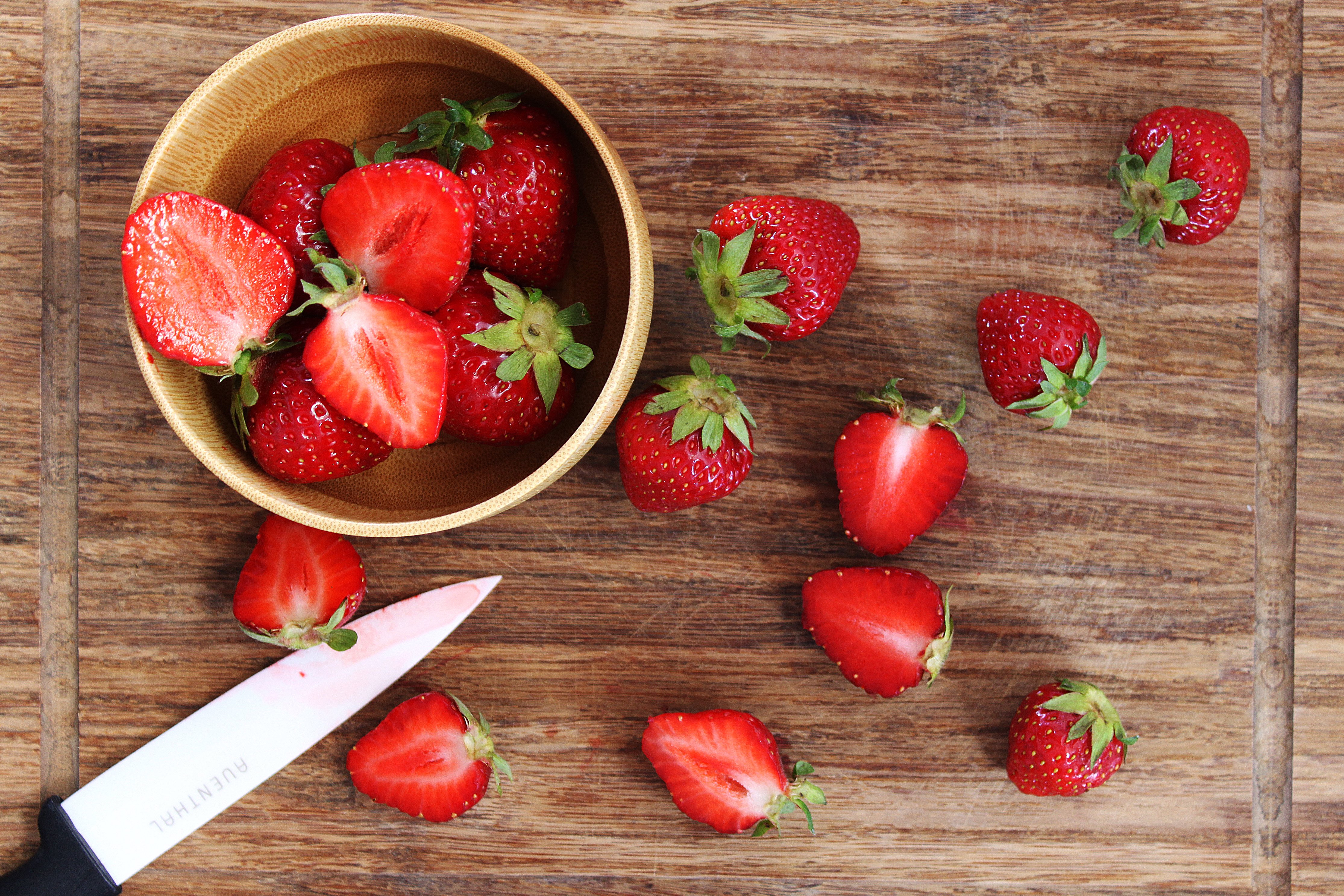 Besides being a tasty fruit and a delicious part of most desserts,  the secret behind strawberries is their richness on alpha-hydroxyl acid, which helps you get rid of dead skin cells hence their smoothing effect on the skin. They also boost up your collagen production, minimize fine line and wrinkles due to a high concentration of vitamin C. Another component of strawberries is omega-3 fatty acids, which will help to lighten your skin tone. If you want to go all in with strawberries, a mask with 1 tablespoon cocoa powder (I like Rapunzel and Divine which are both organic choices), 1 tablespoon honey and mashed strawberries will work wonders. Apply it for 15 minutes and enjoy your new skin.
Salmon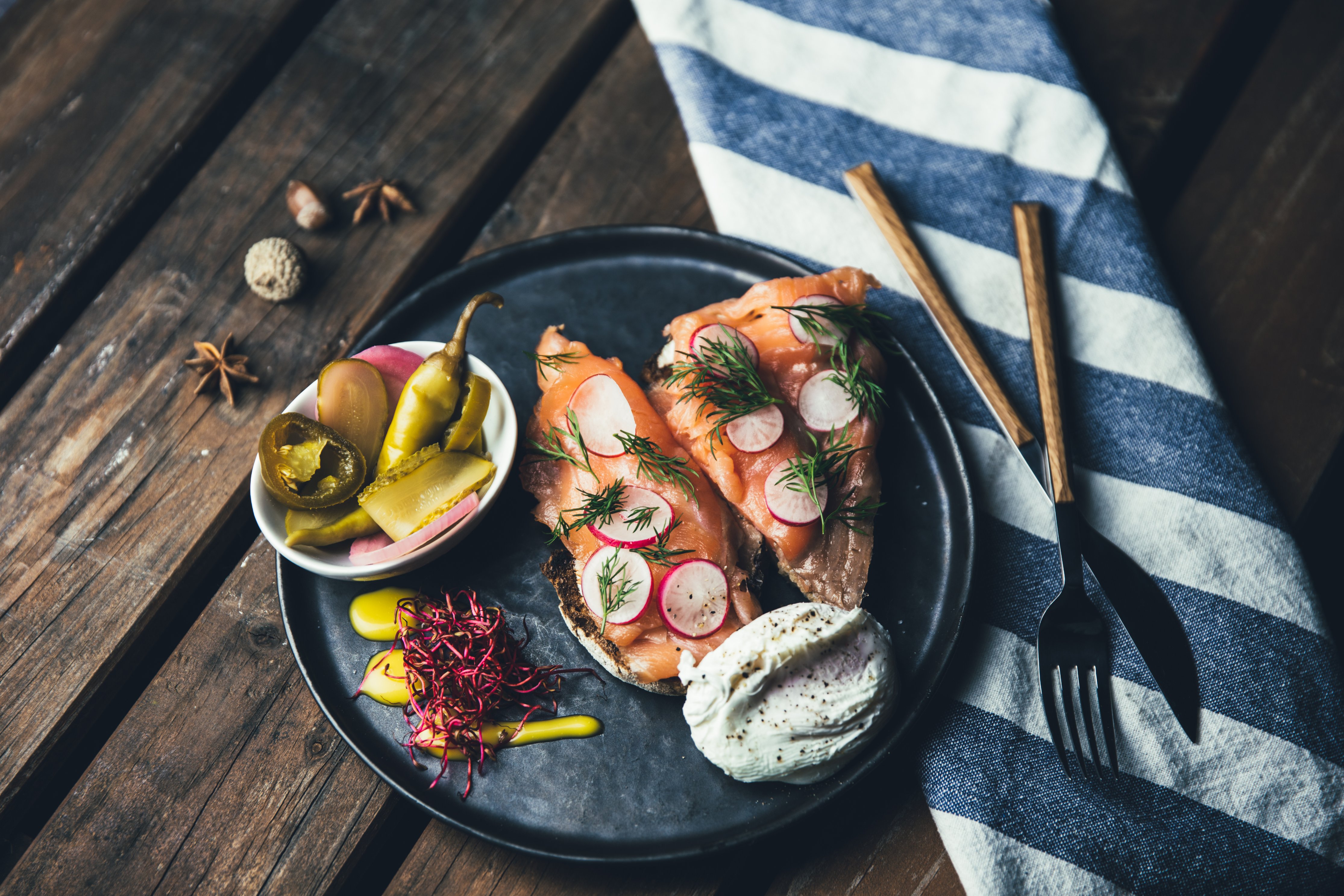 One of the best ingredients we can put into our skincare routine is Omega 3 fatty acid, which increases skin hydration from the inside out and keeps your skin clear of acne and other awful rashes And salmon is the best-known source for Omega 3, but it contains much more: like, dimethylaminoethanol (known as DMAE), important for healthy skin because it protects the integrity of cell membranes, resulting on a shield against premature aging. DMAE also works in conjunction with vitamin B to increase levels of acetylcholine, a neurotransmitter that works (among other things) to keep your face looking toned and firm.
Kale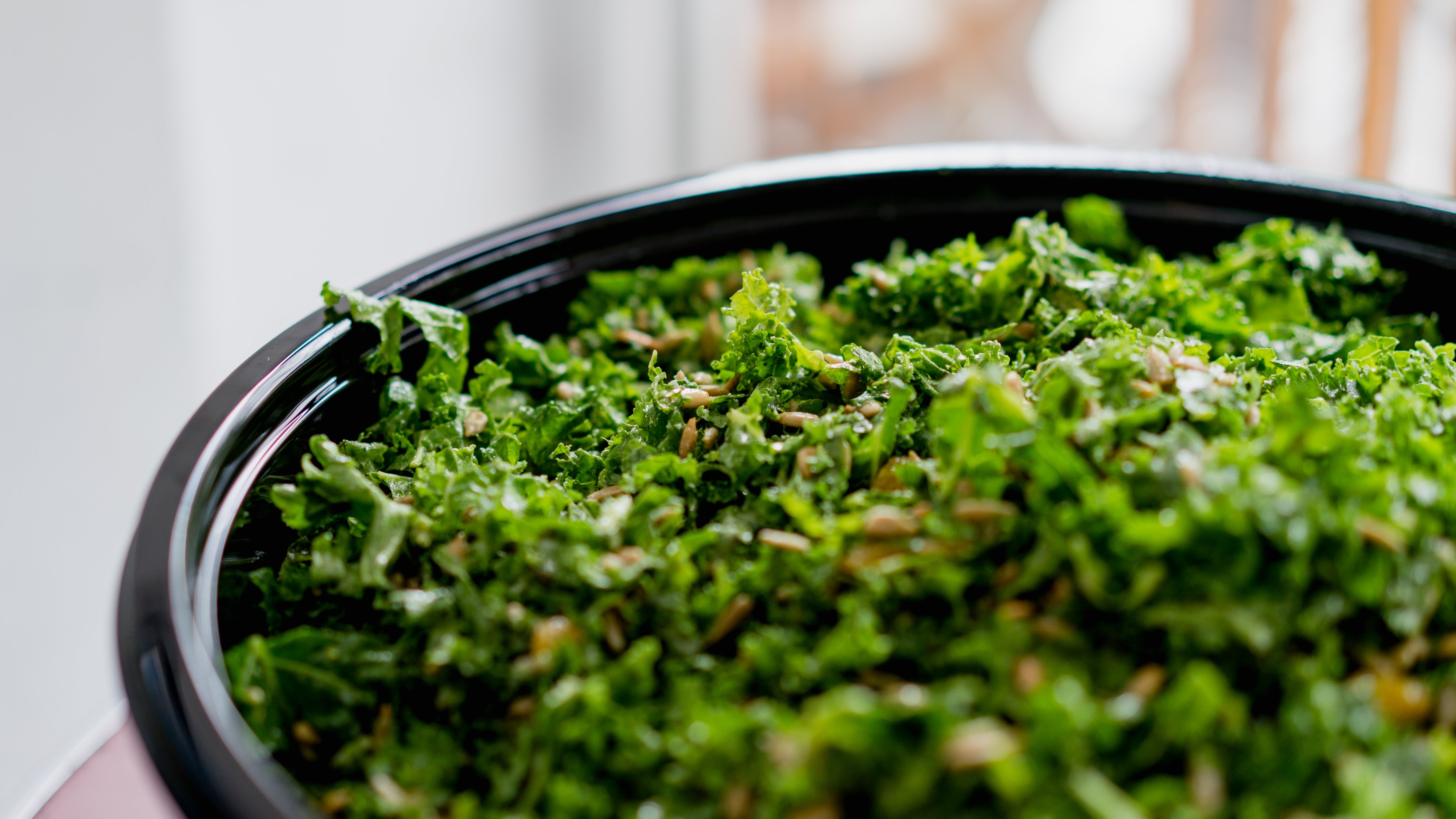 Yes, this vegetable seems to be the latest trending super-food but you should still be eating kale, because it is more than a trend. It Is full of vitamins such as A, C, and E, all key for anti-aging purposes. But the best part of kale is that it contains vitamin K, which helps with blood clotting and faster healing when ingested. And, if you want, you can apply it directly, too. When applied topically, Kale can minimize bruises, scars, stretch marks and spider veins. Talk about a super ingredient!
Turmeric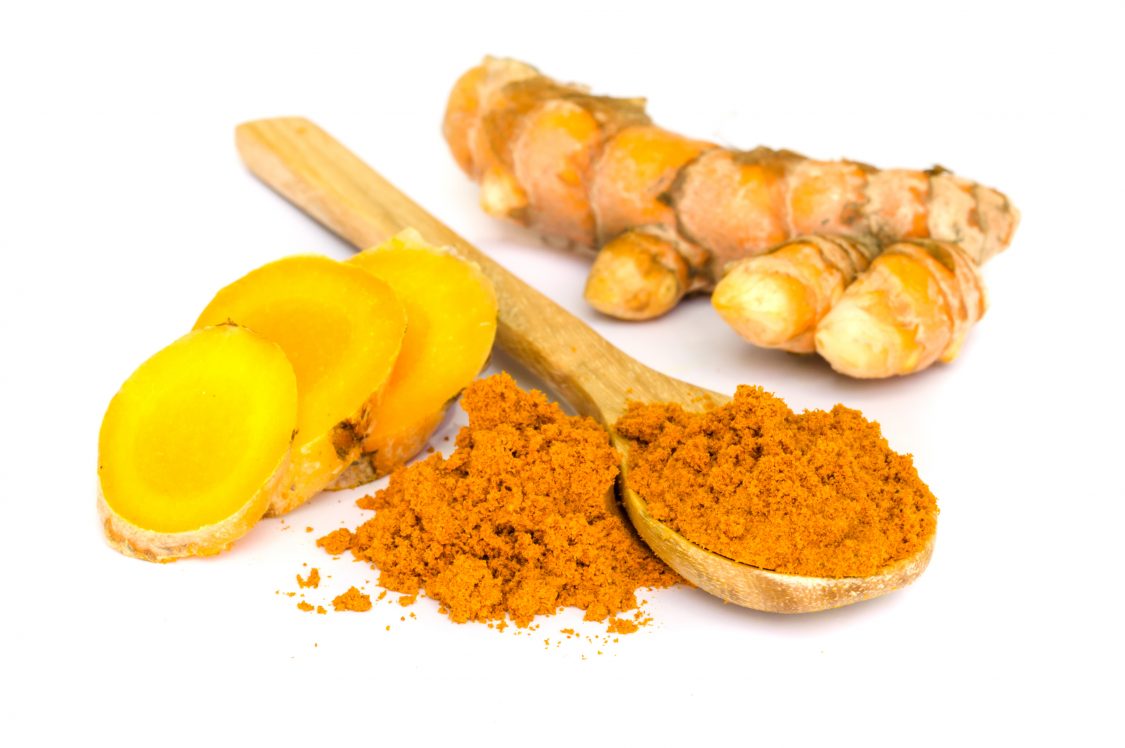 This is an Indian spice that has become very popular to protect against cancer or reducing pain, but it can also provide protect and make your skin glow because of its active antioxidant, curcumin, a powerful anti-inflammatory. Turmeric has also proven to be very helpful to light dark pigmentation blotches or scars caused by aging, hormone imbalance or sun exposure. Outside of running to your closest Indian restaurant or spice cabinet where the spice turmeric is widely used in many delicacies, you can apply it as a face mask, combined with coconut oil or milk, which will create a paste that you can put right on your beautiful face.
Eggs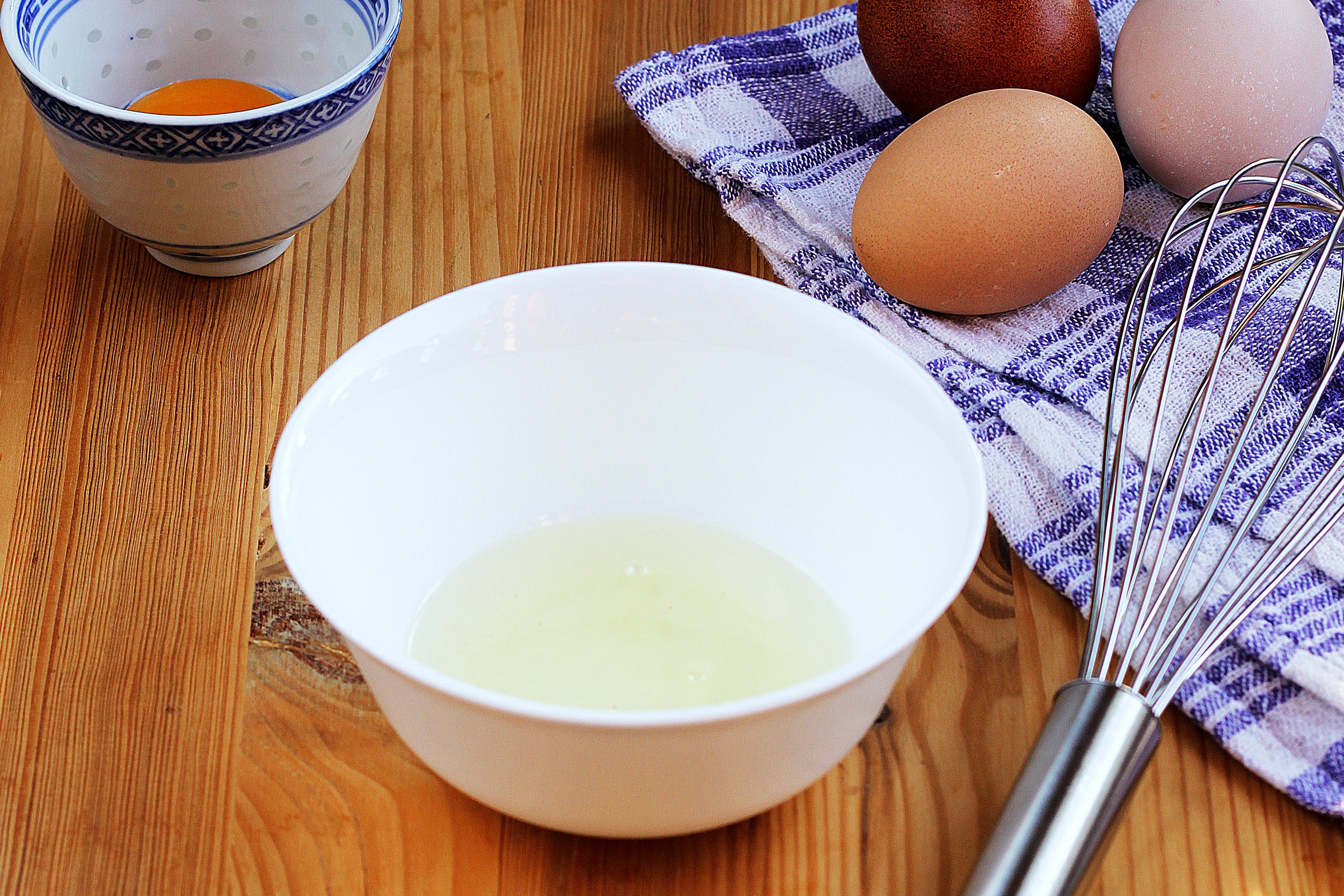 Yes, eggs. We have heard that egg yolk is not exactly our friend if we are trying to drop a few pounds, but it can actually be our best ally when it comes to having a beautiful skin. Egg yolks are rich in vitamins that are essential for proper cell function, as well as containing biotin, known as the 'beauty vitamin'. Biotin is used to help hair growth and strengthen fingernails, but research shows that it also helps to protect skin from acne and rashes. So next time, eat the whole egg, please!
Water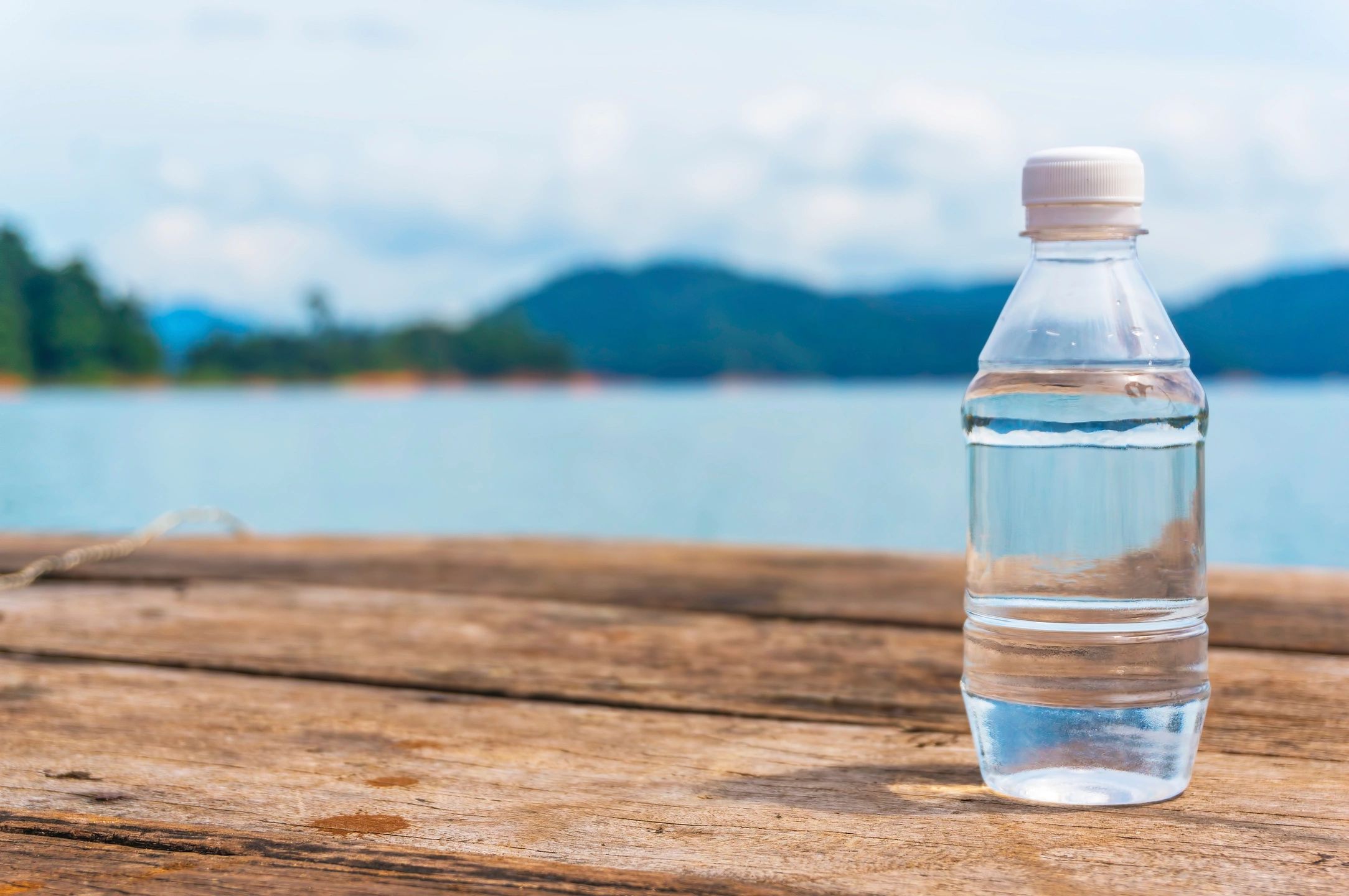 Water is vital to maintain skin hydration and supplenessAccording to Dr. Richard Besser, when your blood gets thick because organs start pulling water from it if we do not consume enough your blood starts pulling water from skin cells. This leads to sallow and a dehydrated look with a lack of glow. This is also evident from sunken eyes, dry, tight and flaky skin. Drinking 8-10 glasses of water per day is beneficial and very important to maintain electrolyte balance and give the skin a fullness and tightness and plumpness. Water also improves circulation, digestion, absorption and even secretion. A process needed to eliminate toxins from the body and improve that natural glow in our skin cells.
Tomatoes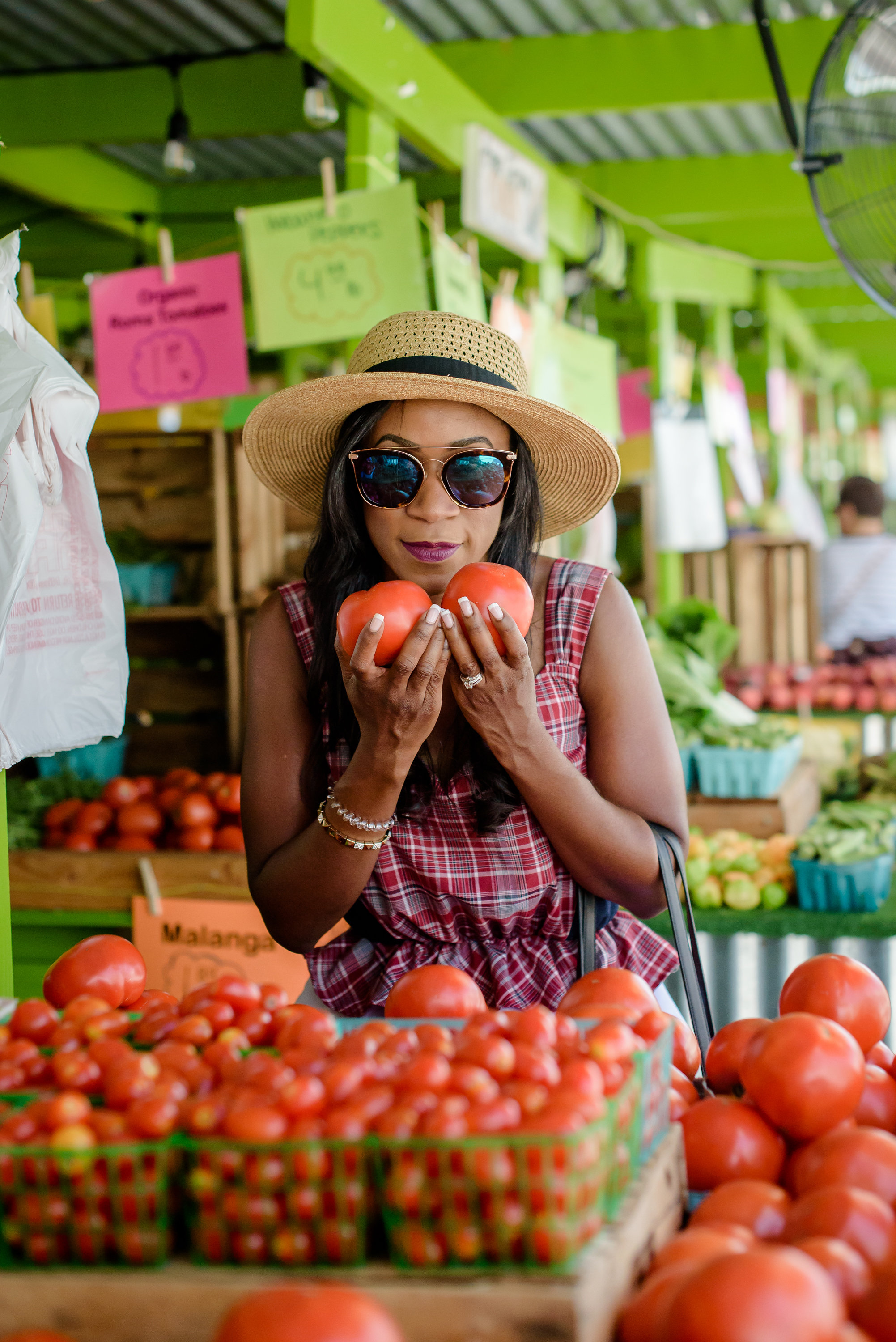 The benefits of tomato for glowing skin can be either external from applying it to the skin or consuming the fruit (yes, tomato is a fruit). Its many benefits include shrinking pores, the lycopene present in tomatoes act as a natural sunscreen, the vitamin C repairs and builds skin cells. Actually, tomato seed oil is a popular facial oil that can be used to improve the skin's complexion. Crush the tomato and bring to a paste to treat acne, as an anti-aging remedy as well as remove dead skin cells.
Papaya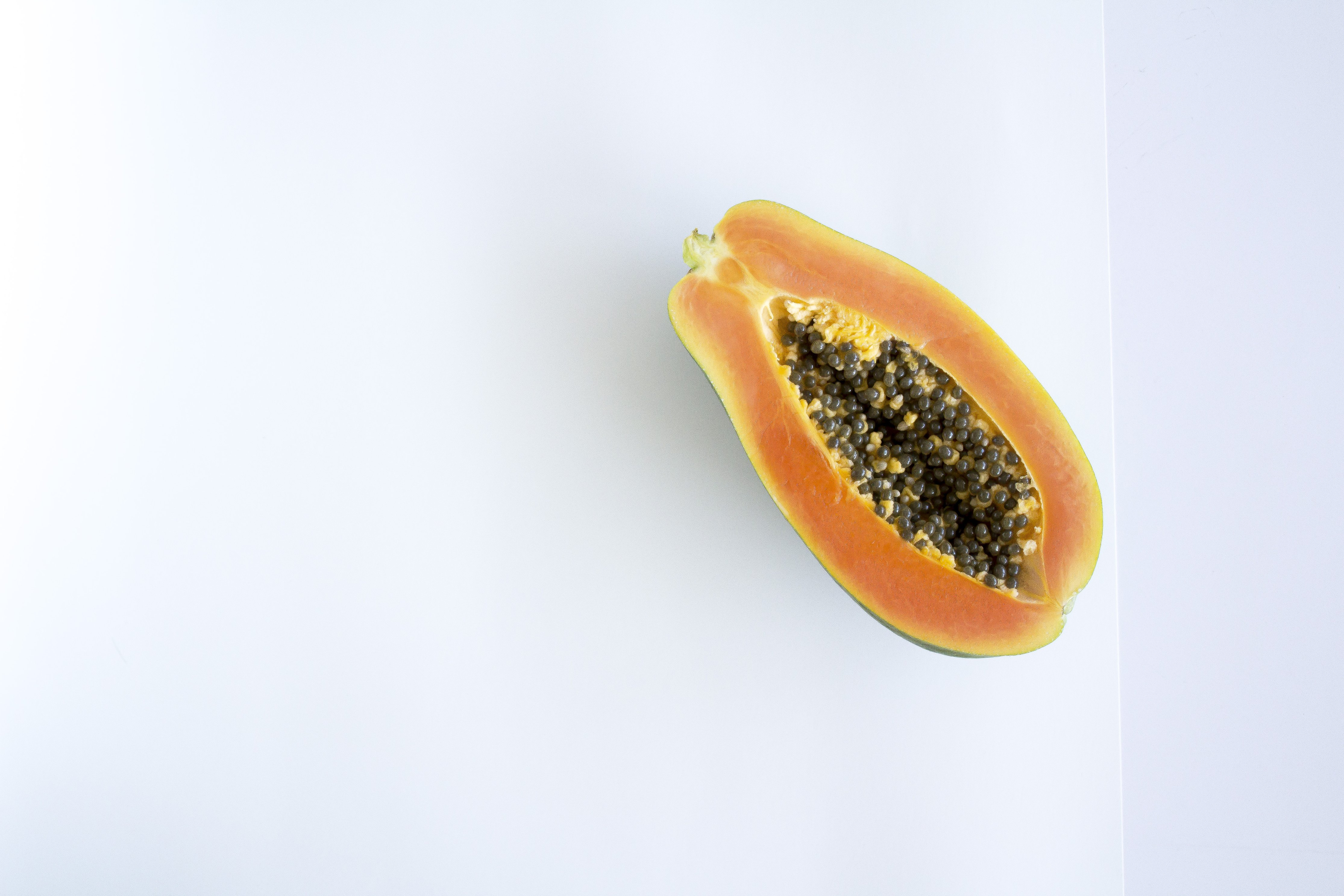 The papaya or pawpaw as we say in Jamaica, has roots in the Caribbean and Mexico and has powerful properties for skin. Its famous enzyme papain is known to have wonderful benefits such as skin lightening, the vitamin C protects against free radical damage. Papaya is also known to reduce unwanted hairs which make your complexion even brighter as well as remove dead skin cells. Crush papaya and either honey or brown sugar and create your very own papaya mask that will brighten, tighten and exfoliate your skin.
Coconut Oil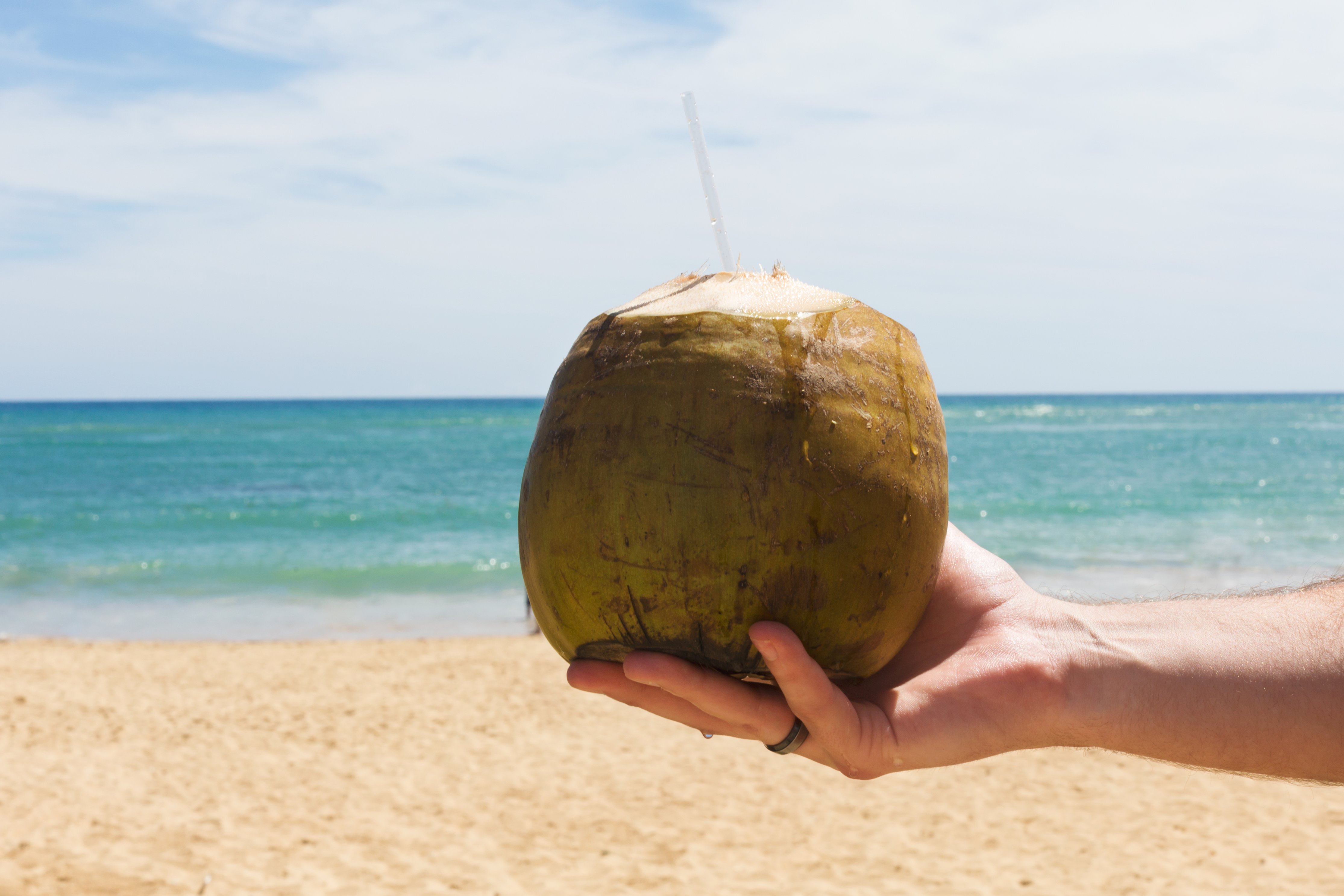 The fatty acids present in coconut oil assist in creating smooth glowing complexion. The benefits of coconut oil can be gained from either ingesting coconut oil or more directly from using cold pressed unrefined coconut oil on the skin.  Coconut oil is also used to brighten and lighten skin tone and can be combined with lemon juice or turmeric to increase toning or brightening powers.   If you are using this recipe using coconut oil on the skin, be sure to do this at night as exposure to the sun while using coconut oil may speed up melanin production and have the opposite effect.  Coconut oil also had anti-fungal, anti-bacterial properties to boost up the immune system and fight against bacteria and other microbes causing skin infections thus clearing up acne, psoriasis, and other skin conditions therefore making the skin glow.
Green Tea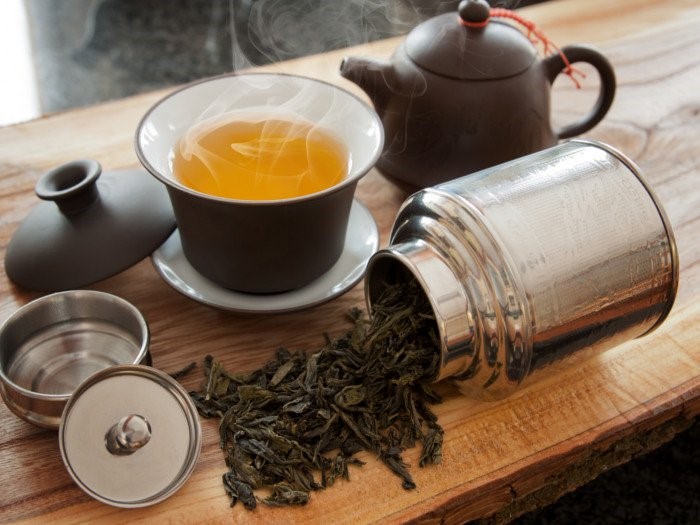 The benefits of green tea for glowing skin is largely due to its antioxidant qualities. The best way to get glowing skin benefits from green tea is to drink it as often as possible. Some other ways to gain skin glowing benefits are to boil it and let it cool and use it to rinse the face at night. Need to spa glow but do not have the time? After cooling a little rub, a green tea bag over the face to get an instant pick me up. Infuse green tea and use it as a toner for glowing skin or mix it with rosewater and add it to a spray bottle for a refreshing toning spray.  Add it to your cleanser to boost skin clearing and toning properties. The benefits of using green tea improved tightening and anti-aging benefits. Add it to your favorite mask or cleanser or use on its own for excellent results
Flax Seeds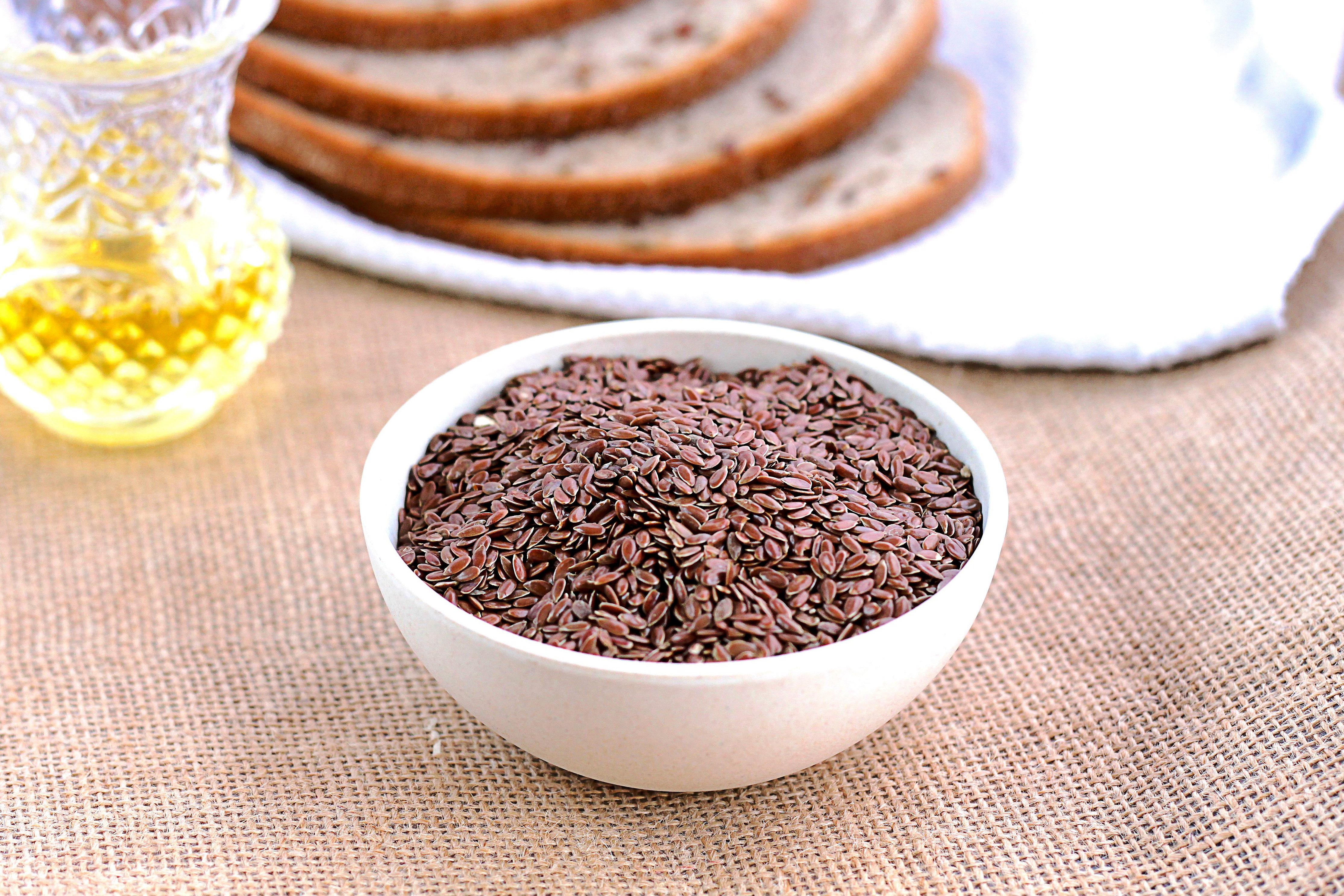 Due to a high anti-inflammatory index, flax seeds reduce inflammation, skin irritation and redness.  Flax especially from flax seed oil moisturize the skin, evens skin tone, reduces dark eye circles. While the oxidation characteristics of the oil help to fight free radicals that build up in the skin after sun exposure, but eating flax has body cleaning properties.  If consumed daily, it leads to free bowel movements which eliminate toxins from the body eventually leading to a clear, radiant and hydrated complexion. To get the benefits mix a spoonful of ground flax with lukewarm water and ingest each morning to cleanse your system or use flax oil directly on the skin.
Dark Chocolate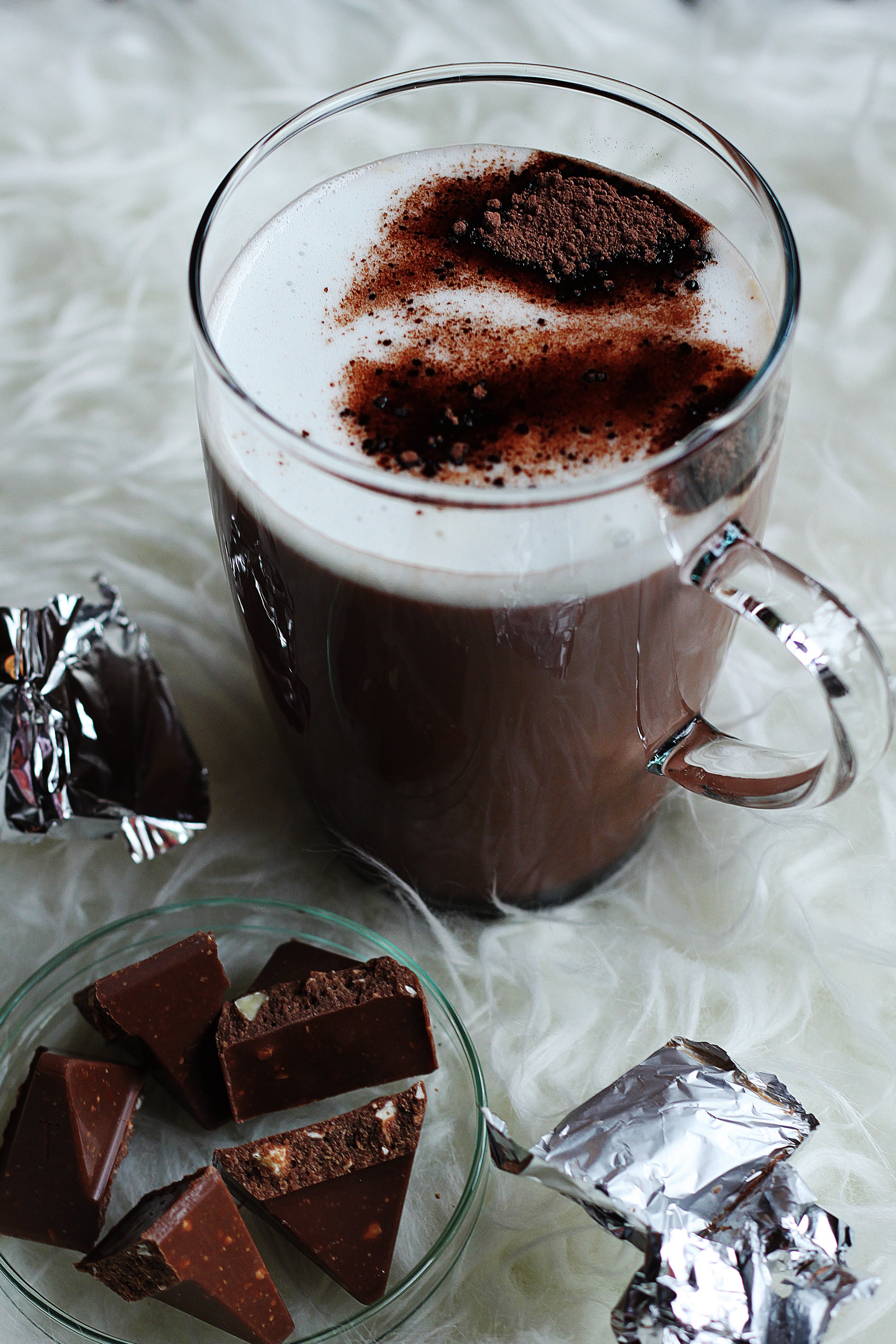 Here is a reason to pop open a box of Ghiradelli! Due to the high dosage of antioxidants, and flavonoids present in dark chocolate, this contributes to a more hydrated and softer skin by protecting it from UV damage, fight free radicals, keep skin soft and supple, and increase blood flow. Now for the fun part! To get glowing skin, simply eat 2 to 3 ounces of dark chocolate weekly or make a mask by melting dark chocolate and mixing it with a little flour and lemon juice to create an antioxidant rich mask.
Walnuts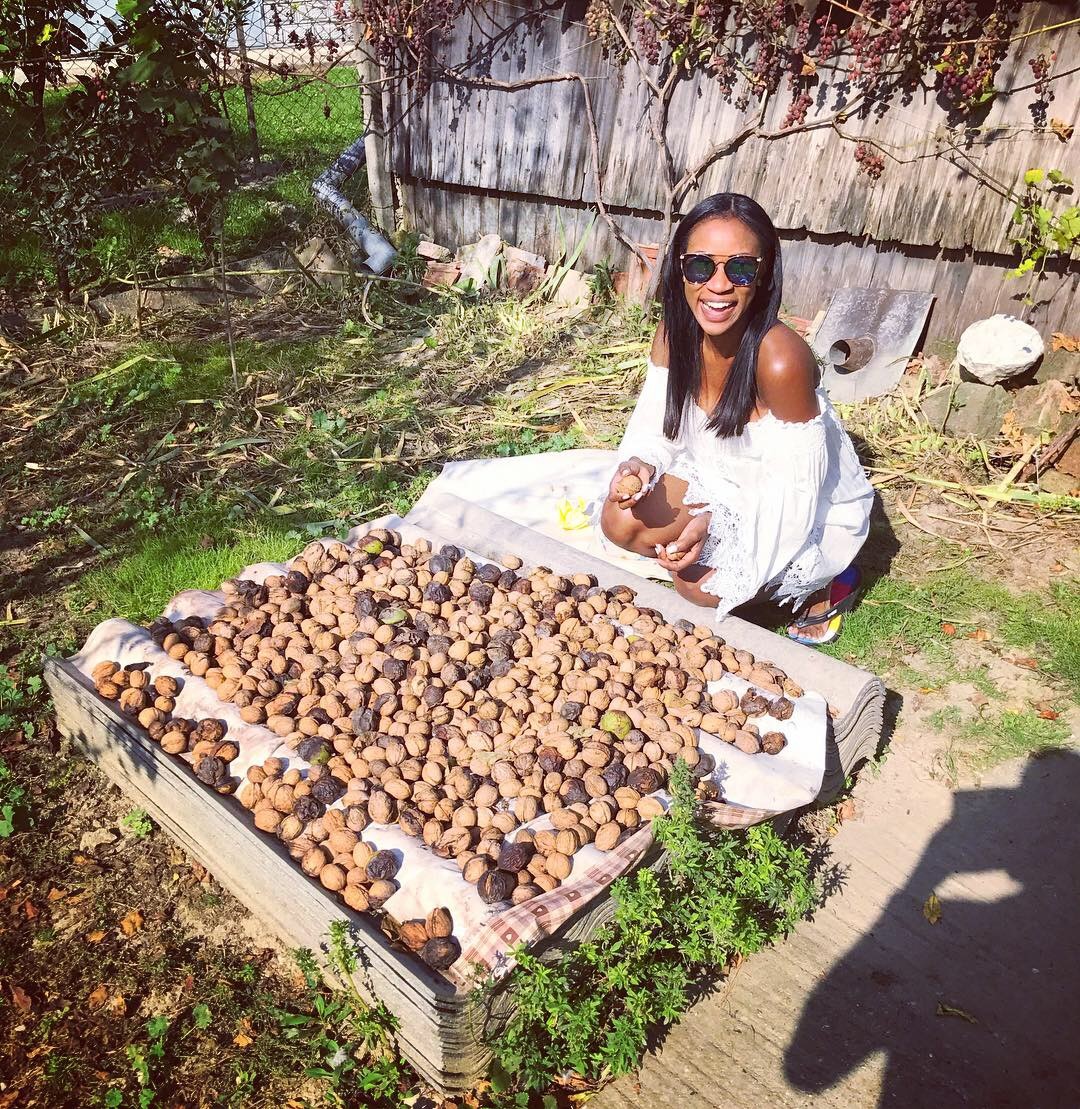 Walnuts are great for your skin because they are a good source of omega-3 fatty acids and B vitamins. Since vitamin B helps to lower stress levels which in turn causes that youth-like glow and vitality to our skin it is essential. Walnut oil can be used directly on the skin and used to lighten dark circles under the eye and other places. To get the benefits of walnuts, simply eat a handful of nuts a few times per week, use the oil, and my favorite is creating my own DIY mask.  Do this by crushing it with oats, yogurt or honey and cream and applying it directly to the skin for a smooth and radiant skin.
Oranges and Citrus Fruits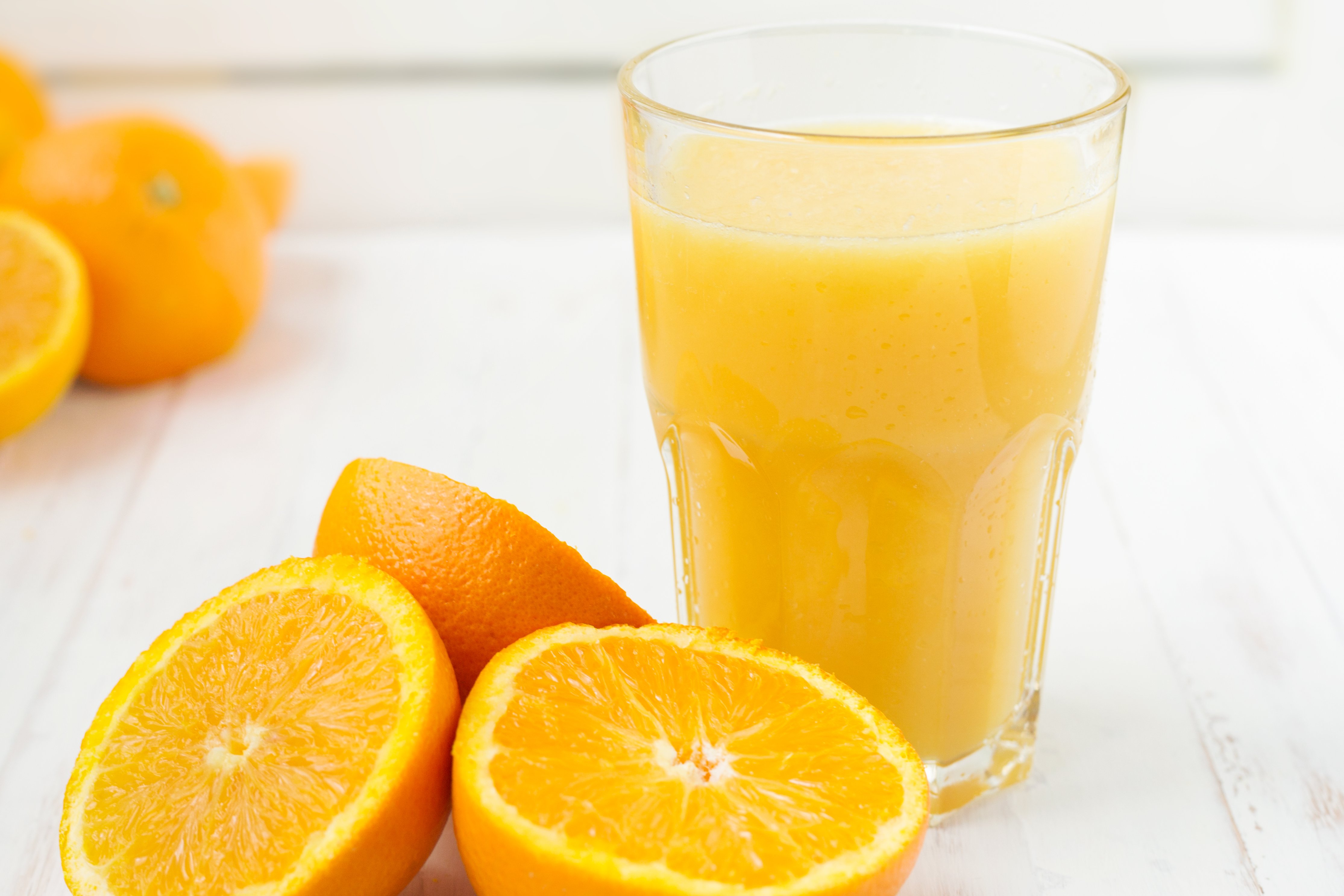 Oranges and citrus foods are rich in vitamin C and collagen, so they help with fighting free radicals in the skin and prevent aging.  The antioxidant rich content also assists with removing dead skin cells and regeneration of new ones.   The collagen also restores elasticity to the skin making it firm and supple.  Citrus food are natures natural exfoliators and vitamin c from citrus has been used for hundreds of years to clear dead skin cells and give skin a glow. To get the benefits of citrus foods simply add it as a regular part of your diet or again use it as a natural addition to your cleansing routine by adding to cleansers or using it in DIY masks.  Lemon is good to add extra astringent or exfoliating quality to your skin care regimen.
The next time you go grocery shopping, don't forget the powerful effects that food can have on our skin and well being. In order to get the maximum benefits from foods try to purchase fruits and vegetables as fresh as possible. Farm fresh with minimal use of pesticides especially if they are being applied directly to the skin. Now go out and glow!